Regina real estate sales in April has surprised us all, in a good way! From an industry professional perspective, I think that since the banks have cooled off and rates have come down, the fear most of our population has been feeling has diminished. We know housing prices are down, we know the government knows housing prices are down and we can still see many families buying & selling homes which has caused less people to hold off with their purchase or sale. I am pleased to acknowledge that April was a THRIVING month for Regina real estate and I'm thankful to be a part of it.
---
Stats for Regina real estate during April:
There were 346 sales reported during the month in all geographic areas (Regina, Balgonie, White City, Grand Coulee etc.), up 28.0% from 2018 when 271 sales were posted. This marks the fourth consecutive month that sales were up over the previous year and is the highest for April since 2014!
---
283 sales reported in Regina alone, up 24.1 % from 2018 when 228 were posted. The number of sales in the city was above the 5-year average of 258 and comparable to the 10-year average of 285 for the month.
Year-to-date (YTD), 953 homes have been sold in all areas, an increase of 12.8% over last year. In the city, 803 sales have been posted, up 15.4% from 2018.
For Regina real estate in April, the MLS® Home Price Index (HPI) reported a Composite Benchmark Price of $262,200, down 4.3% from $273,900 one year ago. Despite the surge of sales in April, the Benchmark Price continued a general downward trend, indicating that buyers still have the stronger advantage over the market.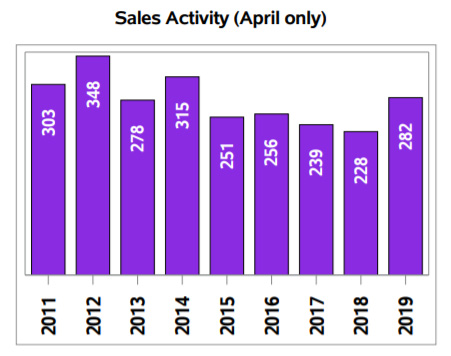 ---
"Over the last five years, the benchmark price for Regina real estate is down 12.8%."
---
In the city, there were 1,417 active residential listings for sale on the market at the end of April, down 8.8% from 2018's 1,554 at the same time, although still well above historical levels. The decrease is primarily due to fewer new listings coming on the market so far in 2019 and more sales taking place in April.
There were 794 new listings placed on the MLS® System during the month in all geographic areas, an increase of 7.6% from 2018's 738.
Year-to-date, new listings of 2,346 are down 7.6% from 2,539 in 2018. There were 573 listings posted in the city, compared to 551 last year. YTD, new listings in the city are down 7.8% - 1,793 this year compared to 1,944 in 2018.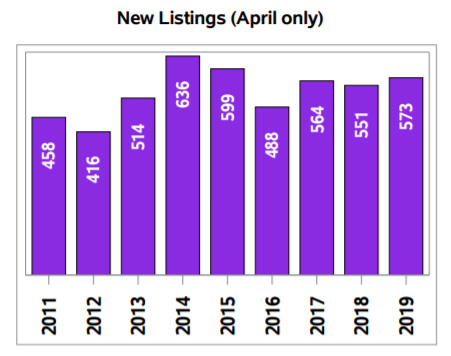 ---
Average days on market is slowly coming down, in April DOM was 69 days.
The ratio of sales to new listings for the month was 49% in the city and 40% in all geographic areas. Balanced market conditions are generally in the 40-60% range – below 40% is considered to be more of a buyer's market - above 60% is considered to be a market favouring sellers. Although this is an extremely good thing, this will need to persist for at least another 8 months for us to be considered in a balanced market.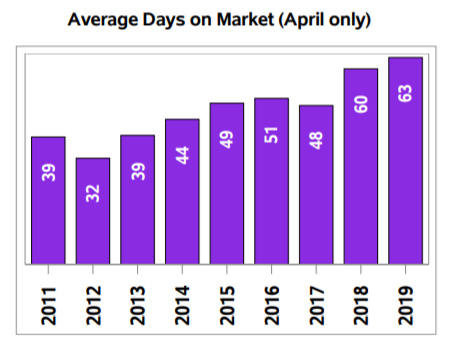 ---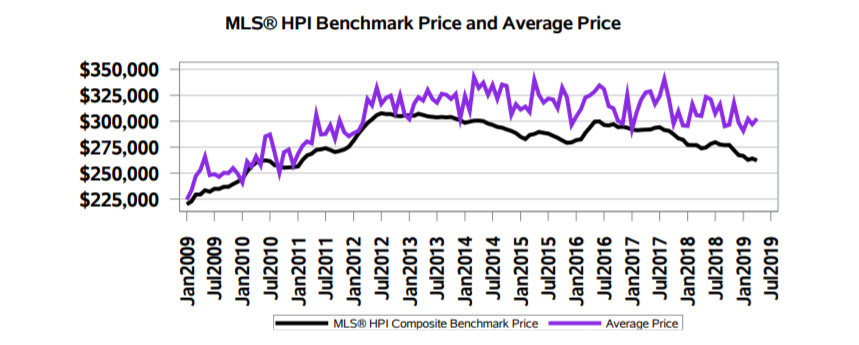 April 2019 has been the best month for Regina real estate sales in at least 2 years, it's a very uplifting sign. Our market has been suppressed due to stress test rules and economic conditions, but I think that housing prices in general have come down into a more affordable range for most buyers. No longer to do you have to spend 350K on a property that needs another 60K in upgrades.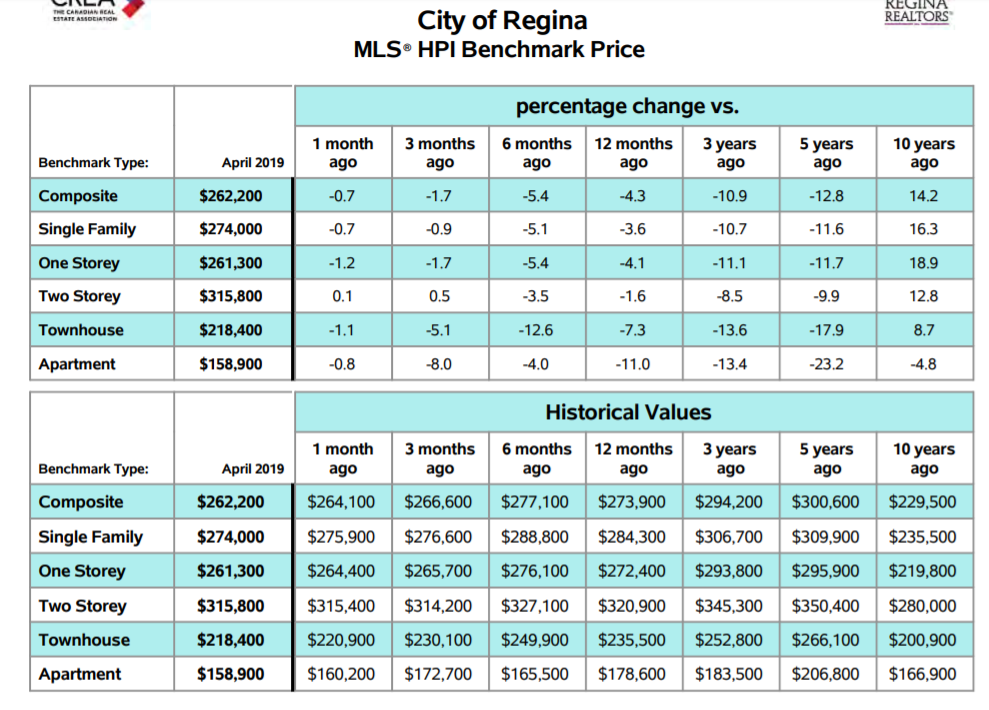 "We are hoping that the upward trend in sales will continue through the remainder of the spring and into the summer months when the market traditionally peaks", said Gord Archibald, Chief Executive Officer of the ARR.
Contact Me
If you have any questions about the market conditions or would like to discuss your real estate needs, please give me a call at 306-552-7047 or fill out my online contact form!
Kelsey Smith Is Regina's Choice
Choosing the right Realtor® is key to ensure a positive and successful real estate transaction. Kelsey Smith promises to deliver the education and time necessary to buy or sell your Regina home. Call 1-306-552-7047 and rest easy knowing you have made the right choice.