Home sales in the province during the month of February reached 1,059, an eight per cent decline relative to last year. While the year is starting out with sales that have slowed compared to last year, it is important to note that housing demand continues to remain strong as levels are over 22 per cent higher than what we typically see at the start of the year and nearly 40 per cent higher than average levels recorded throughout the 2015–2020-time frame.
---
See here for a few comments made by CEO Chris Guérette of the Saskatchewan Realtors Association:
"Last month we started to raise an alarm bell about inventory levels in Saskatchewan," said Guérette.

"Now that we're two months into the market, that dip in inventory levels being the lowest we've seen since 2010 is concerning. That's why we're working harder than ever to build a fuller picture of Saskatchewan's housing continuum so we can identify where the gaps are and build smartly and collaboratively for growth."

Benchmark prices in the province have remained stable over the past several months, but on a year-to-date basis remain over five per cent higher than last year's levels. If the inventory can better meet demand as we move through the spring, it should support more stability in prices this year.

Regina Real Estate information:
With 261 home sales in February, city levels rose to a new record high. The February gain offset some of the pullback that occurred last month as year-to-date sales remained at levels consistent with what we saw last year, which is over 30 per cent higher than long term trends for the city. In addition to the low lending rates and improvements in the job market, Regina has not faced the same level of supply constraint that has prevented stronger sales growth in some markets. However, should the sales to new listings remain above 70 per cent as we move into spring, we could start to see supply challenges occur in this market as well.
By the end of February there were 908 homes for sale across the city. Inventory levels are slightly lower than long term trends. Strong sales relative to the inventory levels caused the months of supply to ease to just over three months.
The detached homes portion of the Regina real estate market demonstrated tighter market conditions relative to the broader market. While prices remained stable this month, after the first two months of the year, the benchmark price for detached homes rose by over six per cent moving the city closer to price recovery.
Stat Breakdown:

This month produced 372 new listings which were comparable to last month. A 5% increase in the benchmark price of a home, average days on market of 55 days and a 9% increase in total residential sales.
Looking at the Regina real estate market during the month of February from a year-over-year perspective, it's quite similar. New listings are only down 3% and sales, inventory and the days on market saw only slight differences.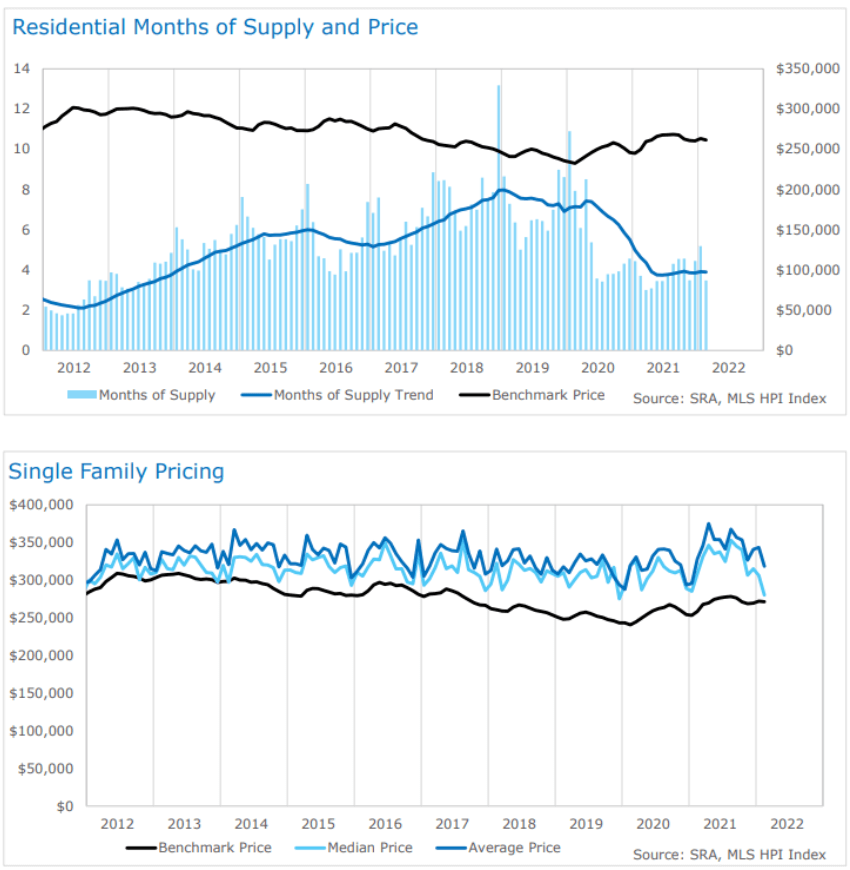 Visual representation to show that while inventory is down, prices have not increased as much as one would think compared to higher-value years for Regina real estate between 2012-2015 BUT you can start to see a slight trend upward.
Contact Me
If you have any questions or want to discuss more about the Regina real estate market, give me a call at 306-552-7047 or fill out my online contact form.
Kelsey Smith Is Regina's Choice
Choosing the right Realtor® is key to ensure a positive and successful real estate transaction. Kelsey Smith promises to deliver the education and time necessary to buy or sell your Regina home. Call 1-306-552-7047 and rest easy knowing you have made the right choice.