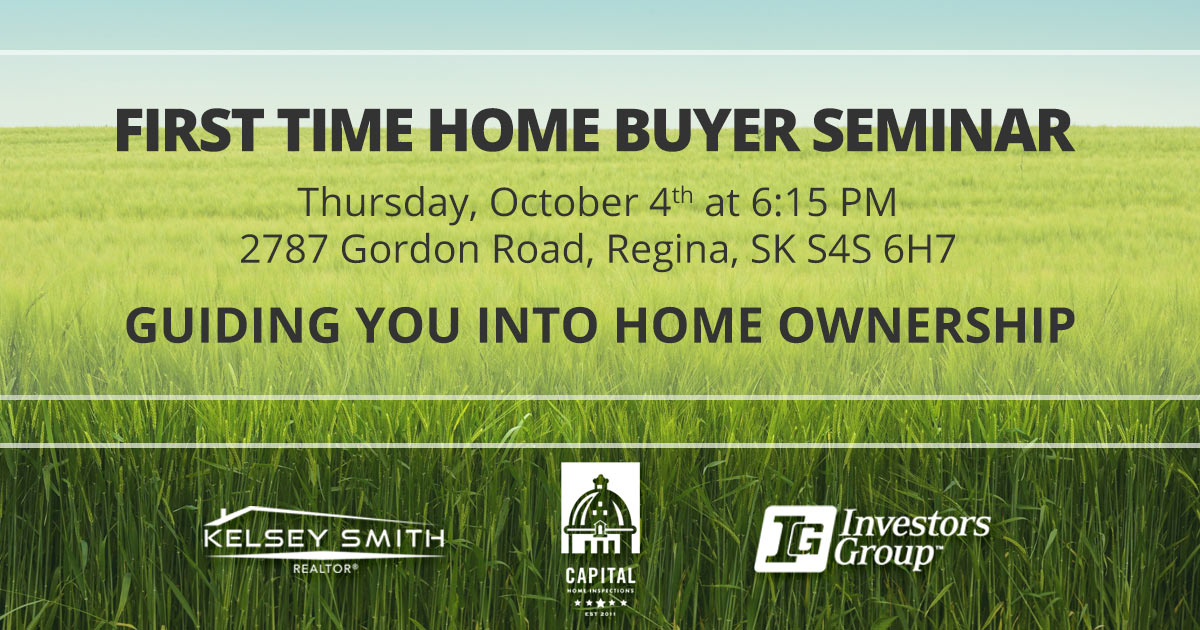 Looking to buy a home one day? Know someone looking to buy a home one day? Attend this Regina First Time Home Buyers Seminar! The structure of the event provides an opportunity to learn about the home buying process in a non-pressure environment. We break down the home buying process so that you can be aware of how it works and what is involved. Over 200 people have attended these seminars in the past and we are proud to present such helpful and important information to you!
---
Details:
When: Thursday, October 4th @ 6:15 PM
Where: George Bothwell Library, 2787 Gordon Road, Regina SK
Who's Presenting At The Regina First Time Home Buyers Seminar?
First up, Sam Lichtman - Financial Planner with Investors Group.
The financing aspect of buying a home can be confusing, overwhelming and sometimes not that interesting. Sam is a fantastic speaker and brings a load of humour to his presentation. Sam will take you through a mini pre-approval (all financial info is kept to yourself) that will help you learn where your Total Debt Ratios are and what price range you can buy into. Sam covers how much income you need to buy, credit scores, types of mortgages and explains the importance of affordability. The highlight of Sam's presentation is learning how to use the Home Buyers Plan and RRSP's to save THOUSANDS when buying your first home.
Next, Kelsey Smith - Regina Real Estate Agent.
The actual physical task of buying a home can be daunting. There's so much to know, so many things to consider- after all this is the property you may spend the next 20 years in. Kelsey's presentation is JAM PACKED full of golden nuggets of information that will ensure the home searching process is as smooth as possible for you. Kelsey will go in-depth on what defects to watch out for when looking for a new home, how to know your paying fair market value for the property and how the negotiation process works. Kelsey's presentation is quick and straight to the point and you get a FANTASTIC Home Buyers Guide take home package.
Last but not least, Curtis Beaudry - Regina Home Inspector of Capital Home Inspections.
Curtis Beaudry has been investigating and inspecting homes for over 20 years. He brings an immense amount of skill and knowledge to his business and ultimately is the best source of information when it comes to buying a home. Curtis explains what can and cannot be inspected in a property, as well as what other kinds of defects to watch out for. Curtis emphasizes the importance of a home inspection and will provide a report for attendees to look over.
As this is our 5th Regina First Time Home Buyers Seminar Sam & I have run together, we understand the importance of helping people make informed home buying decisions. We enjoy providing the information and we love that people leave our seminars excited and ready to move onto the next step. Whether that be simply understanding your financing better, starting to save up for a down payment, making steps to improve your credit rating or simply just setting up an RRSP.
We LOVE being a source of information and support for people who are entering into home ownership. We hope to see you at the Regina First Time Home Buyers Seminar on Thursday, October 4th! Please register either through my online contact form or reserve a ticket through Eventbrite below:
Kelsey Smith Is Regina's Choice
Choosing the right Realtor® is key to ensure a positive and successful real estate transaction. Kelsey Smith promises to deliver the education and time necessary to buy or sell your Regina home. Call 1-306-552-7047 and rest easy knowing you have made the right choice.