---
It wasn't long ago that homes in Regina for sale were advertised with long property descriptions and one big photo of the outside of the home. It was left up to the buyer's imagination to determine whether that home was worth looking at or not. Often, people would schedule viewing only to find the home was much less than the description described.
Gone Are The Days Of Reading!
A buyer will type "Homes in Regina for Sale" and instantly they will be flooded with thousands of search results. They will make their way to their preferred searching platform and begin looking in a certain area of the city, where they are again flooding with 50+ listings. It would take someone two days to fully read the property description of 50 homes. This is why images are taking over the world. Photos are quick, photos are convenient, and photos tell stories.
Photos Are Quick. Photos Are Convenient. Photos Tell Stories.
Good photos are 100% necessary to get the most money out of your sale in the quickest time possible. People are literally skimming the description and jumping straight to photos. If the photos look appealing, they will go back to the property description.
According to NAR's "Home Buyer and Seller Generational Trends" Report:
Among nearly all generations of home buyers, the first step taken was to look online for properties.
As a result of an internet home search, buyers most often walked through the home that they viewed online.
The most important website feature was photos for 9/10 buyers.
9/10 Buyers Said The Most Important Website Feature Was Photos When Looking Online At Homes For Sale In Regina.
Good photos encourage people to schedule viewings because they show the buyer what the home has to offer, what sort of renovations have been done, room size and overall condition. The quality of the photos almost determines the overall quality of the home. It's true.
So there you have it, its' very simple. Professional photos are essential.
Here is an example of a bad photo: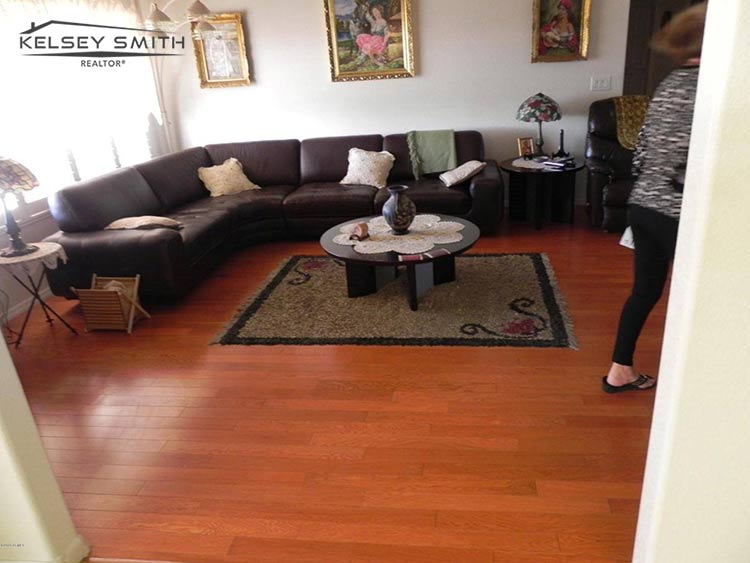 This photo is BAD. You can see the owner moving in this photo. The light from the window has the photo distorted and unclear. While this room is nice and tidy, it looks like the photo is really just a picture of the couch. You can't see how big this room is or where other rooms are in correlation to this room. It's a bad photo.
Between these two photos, you can clearly see the difference between high quality and low quality. They are also two photos of a living room area, see the difference?
Let's talk about how unprofessional it is for Real Estate Agents to post pictures like these.
Our listings are our brand. If the listing looks bad, the real estate agent looks bad. It is literally our job to make the property look attractive enough that someone will want to buy it, or to a least get the showings! What do you think a potential buyer thinks when looking at those two photos?


A Real Estate Agent in Regina makes 1-2% commission on a listing. Take a sale of $300,000, that's about $3000-$6,000 earned. If that Real Estate Agent can't afford to spend $160 on professional photos then you might have chosen the wrong agent.
Here is an example of a good photo: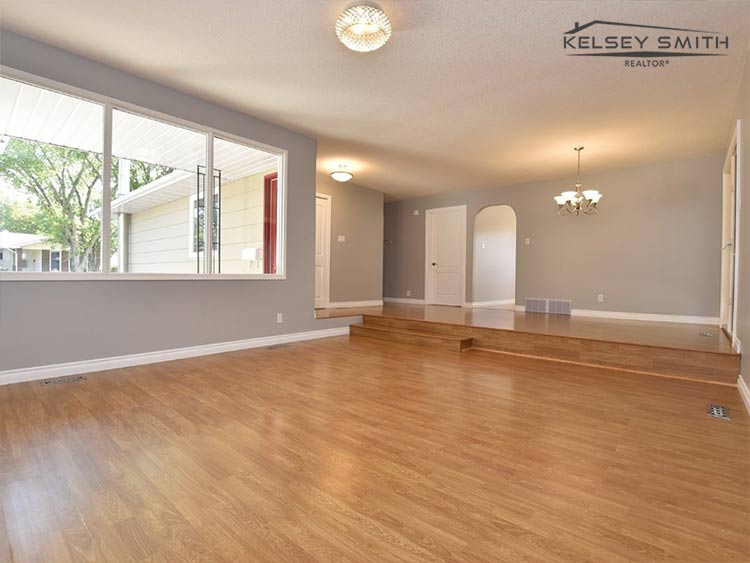 Even though this home is vacant, you can clearly see how large the room is. You can see that it has new flooring, trim, a nice light fixture. You can see that it has big window's and that it's a nice big, bright room. The photo is a still shot. It doesn't have a filter. There are no miscellaneous objects or random people in the photo.
Some Homes In Regina For Sale Don't Benefit From Professional Photos
Not all properties are created or maintained equally. There are some homes that just don't show well enough to take that many photos. If it's a rental property that is in really rough shape, a bank repo or a throwback from the 60's then professional photos might not be the best form of advertising. Sometimes a little mystery is for the best. If you know your house is worth professional photos, then ask your Real Estate Agent for professional ones.
As a Real Estate Agent, when I am looking for homes in Regina for sale for my clients, I too look at the quality of the photos. I know what kind of budget my clients have and I know there's only one house for them. If the listing photos are atrocious, it's heading to the bottom of the list because I can't properly figure out if your home checks their boxes. Everyone's time is important, including mine. I don't enjoy showing my clients house's that disappoint them because I had to take a "guess" at what that listing actually looked like in person. Not only that, but the seller had to get the home show ready and leave the house for an hour without receiving an offer!
Contact Me
The bottom line is that photos are important. If you want a Realtor® who values your faith in my service and who work's really hard to get your home sold as fast as possible for the best price possible, then call me at (306) 552-7047 or send me an email today.
You won't be disappointed!
Kelsey Smith Is Regina's Choice
Choosing the right Realtor® is key to ensure a positive and successful real estate transaction. Kelsey Smith promises to deliver the education and time necessary to buy or sell your Regina home. Call 1-306-552-7047 and rest easy knowing you have made the right choice.