---
Cautiously optimistic are the words best used to describe the increase in sales and decrease of listings the Regina real estate market experienced in February. February was a very good month for many buyers and sellers. The sales to listing's ratio were at an astonishing 56%; which indicates balanced market conditions! It is far too early to call us a balanced market, but I am sure happy to see some win-wins for both buyers and sellers this month. The Association of Regina Realtors says we are off to a good start, too!
The Breakdown for Regina Real Estate in February
There were 197 sales reported during the month in all geographic areas (Pilot Butte, White City, Emerald Park, Grand Coulee, Fort Qu'Appelle etc.) up 4.2% from 2018 when 189 sales occurred. There were 170 sales reported in Regina, up 11.8% from 2018 when 152 sales were posted.
For the year-to-date, there have been 370 Regina MLS listings sold in all areas, an increase of 2.7% over last year. In the city, 314 sales have occurred, up 6.8% from 2018.
---
Over the last five years, the Benchmark price for Regina real estate is down 12.3%.
For February, the MLS® Home Price Index (The HPI measures residential price trends based on four benchmark home types, with the index set at a base of 100 for January 2005) reported a composite Benchmark residential price of $262,800 and index of 246.0 in the city, down 5.1% from $277,000 one year ago. Over the last five years, the Benchmark price for is down 12.3%.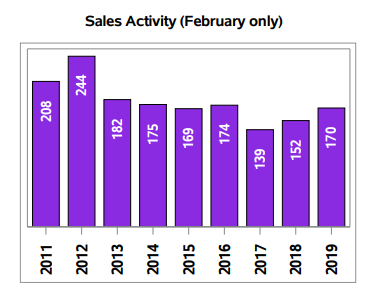 ---
There were 1,219 active Regina real estate listings on the market at the end of February, down 4.7% from 2018's 1,279 at the same time. There were 384 new listings placed on the MLS® System during the month in all geographic areas, a decrease of 27.6% from 2018's 530. There were 301 listings posted in Regina, down 24.8% from 400 in 2018.
The ratio of sales to new listings for the month was 56% in the city and 51% all geographic areas. Balanced market conditions are generally in the 40-60% range – below 40% is considered to be more of a buyer's market - above 60% is considered to be a market favouring sellers. Although because of the very low number of new listings for the month, we would caution against describing the market as balanced. The trend has been more of a buyer's market for several years.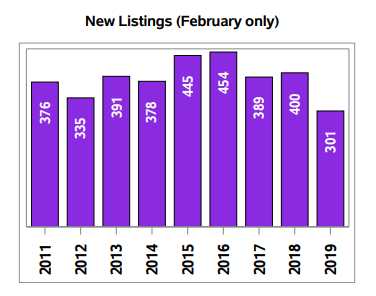 ---
The average days on market for homes for sale in Regina was approximately 78 days in the month of February. This AVG DOM number is getting high, we haven't seen Regina MLS listings take this long to sell in a number of years.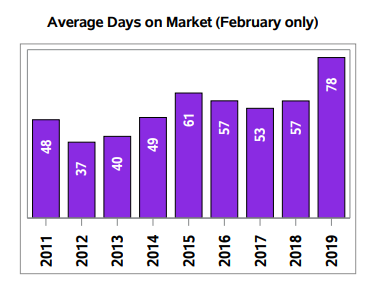 ---
"Although we are encouraged with the level of sales so far this year, economic factors coupled with federal mortgage stress levels are negatively affecting demand levels. Stress rules have unnecessarily taken buyers out of the market because they cannot qualify for mortgage financing even though they can afford monthly payments," said Gord Archibald, Chief Executive Officer of the Association of Regina REALTORS® Inc. "With some positive economic growth forecasted for the year locally, we are hoping this will translate into job growth and further demand for housing. It would also help if the federal government relaxed the impact of the mortgage stress rules, allowing more buyers to qualify for financing," concluded Archibald.
This graph can help you understand exactly what has happened to our housing prices since July 2016 when the stress test's we're introduced.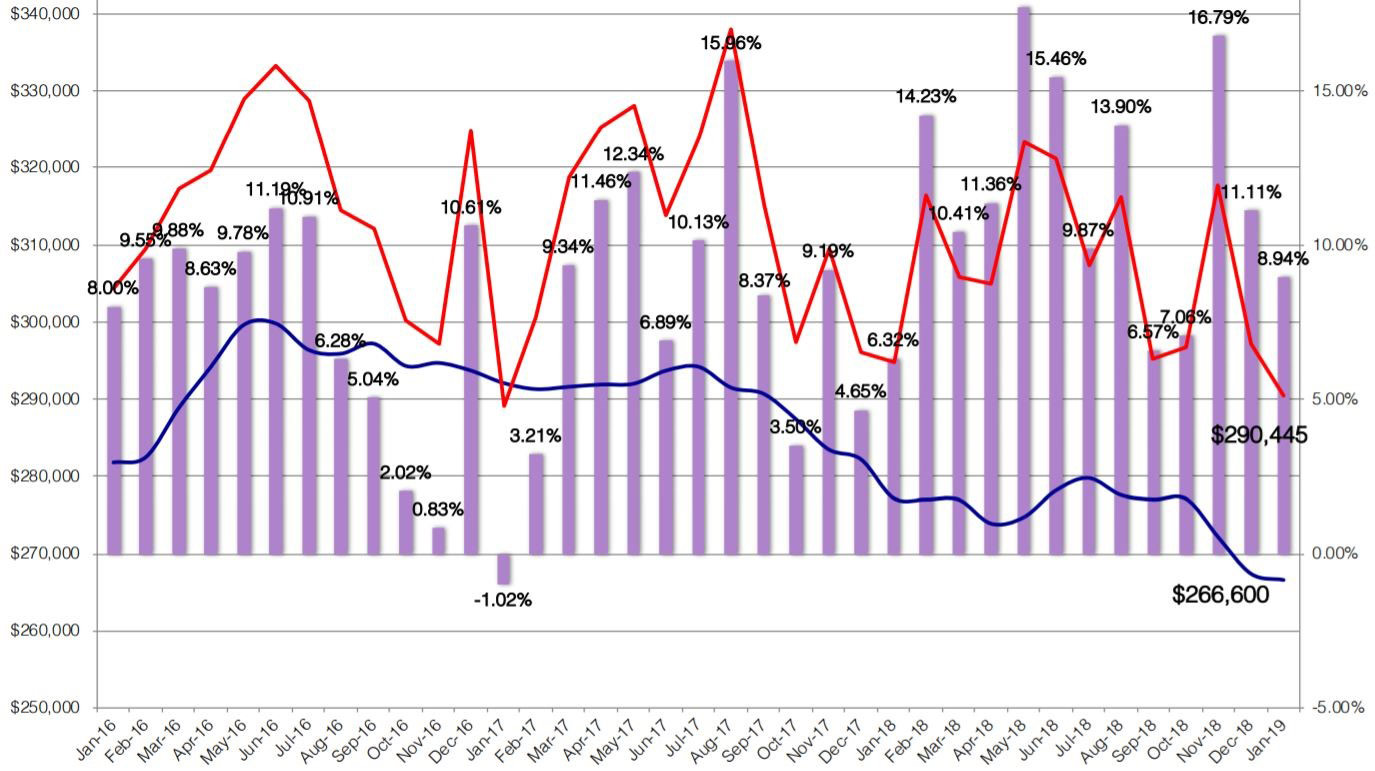 Contact Me
Stay tuned for the March Market Update! If you have any questions about buying or selling in 2019 please give me a call at 306-552-7047 or fill out my online contact form!
Kelsey Smith Is Regina's Choice
Choosing the right Realtor® is key to ensure a positive and successful real estate transaction. Kelsey Smith promises to deliver the education and time necessary to buy or sell your Regina home. Call 1-306-552-7047 and rest easy knowing you have made the right choice.