As we near the end of 2019, many housing market organizations are hoping that the new decade, or at least 2020 is a better year. When the housing market is depressed, hundreds of other organizations are affected. People either cannot buy into the market or cannot afford to sell in the market, which effects real estate agents, mortgage brokers, insurance companies, home builders, renovation companies, home improvement companies and the list goes on. When the housing market is depressed, thousands upon thousands of people are affected. If the Regina real estate market has seen anything this year, it is unpredictability.
---
I personally think a lot of organizations expected our market to do far worse than it did this year. Now, 2019 wasn't a great year for home sales or prices but when we compare statistics from 2018 and 2019, the outcomes are fairly similar.
Home prices further declined in 2019 yet the number of sales year-over-year are very close.
Let me break the November Regina real estate market down for you:
---
There were 145 sales reported in the city of Regina, a decrease of 21.2% from 2018 when 184 were recorded. There were 166 sales reported during the month in all geographic areas (Regina, White City, Pense, Balgnie, Pilot Butte, etc.), down 27.5% from 229 in 2018. This is the lowest number of sales in the last 15 years for the month.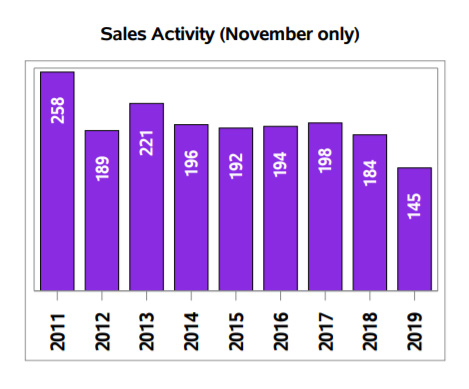 ---
For the year-to-date, 2,943 homes have been sold in Regina & all other areas, up 1.0% over last year's 2,915. In the city, 2,431 sales have been posted, up 3.3% from 2018's 2,356.
Total sales year-to-date are up, despite November 2019 being the worst month for sales in 15 years.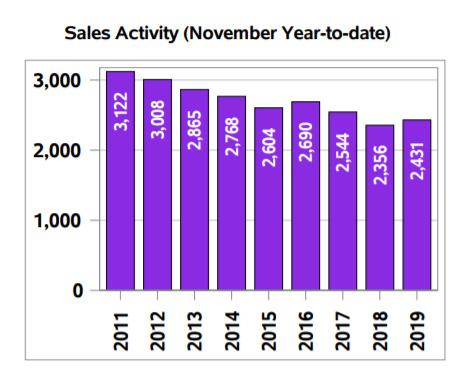 ---
For November, the MLS® Home Price Index (HPI), a much more accurate measure of housing price trends than average or median price, reported a Composite Benchmark Price of $259,600, down 5.5% from $274,800 one year ago. The Composite HPI Benchmark Price is down 12.2% from three years ago and 11.2% from five years ago. The HPI Composite price is now at its lowest since being adopted by the association in 2012.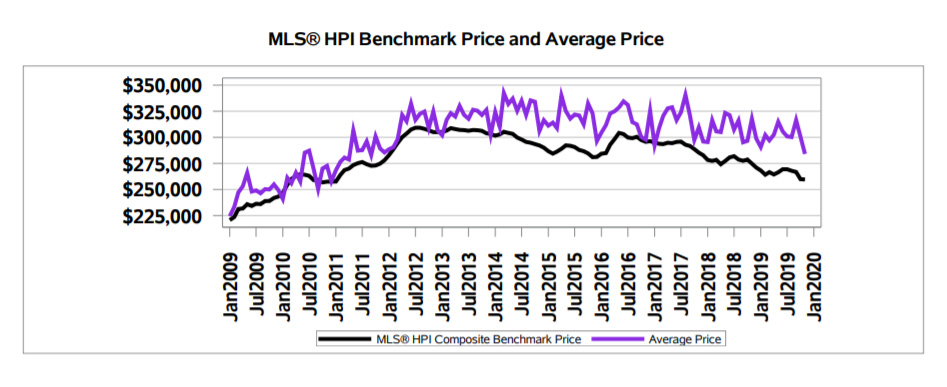 ---
In the city, there were 1,299 active residential listings for sale on the Regina real estate market at the end of November, down from 1,395 one year ago.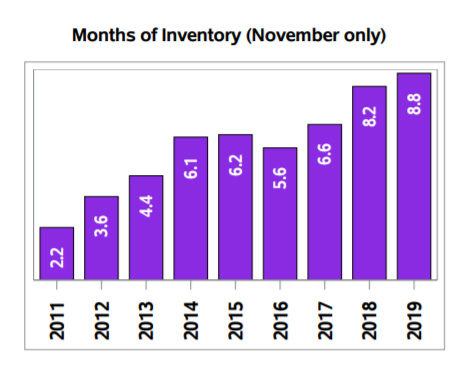 ---
There were 291 new listings posted in Regina, compared to 309 last year – a decrease of 5.8%. Year-to-date, new listings in the city are down 9.8 % - 4,868 this year compared to 5,397 in 2018. There were 341 new listings placed on the MLS® System during the month in all geographic areas, a decrease of 12.8% from 391 last year. Year-to-date, new listings of 6,313 is down 9.4% from 6,969 in 2018.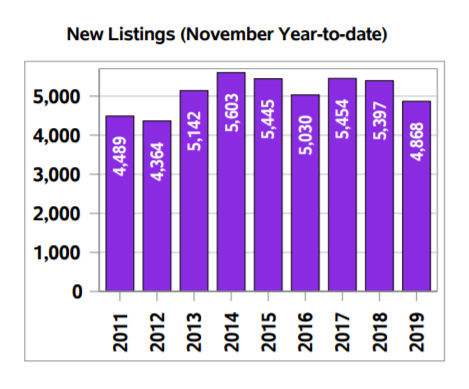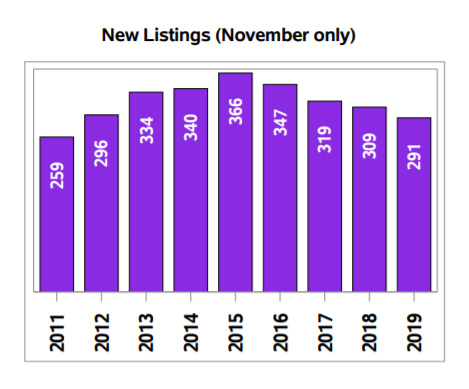 ---
The ratio of sales to new listings for the month was 49% in the city and 48% in all geographic areas. Balanced market conditions are generally in the 40-60% range – below 40% is considered to be more of a buyer's market - above 60% is considered to be a market favouring sellers.
The average days on market in the city for November was 66 days, compared to an average of 65 days for the year.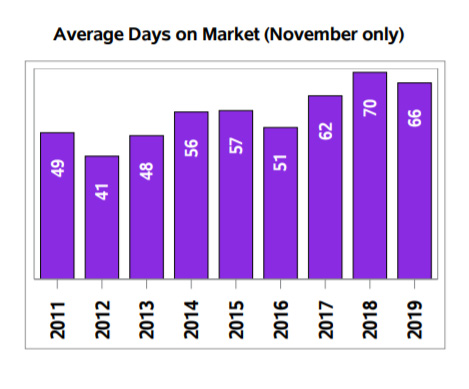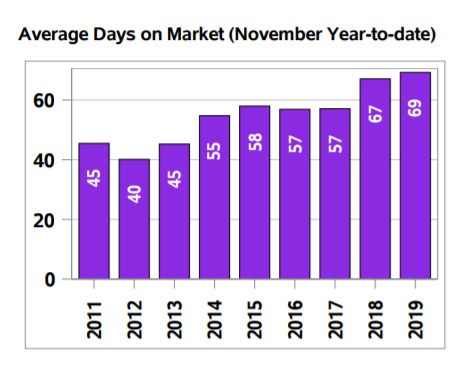 ---
If you recall, the number of home sales in August was up significantly and now in November they are down by 21%. Right now I suspect the Regina real estate market in 2020 will be very unpredictable. I believe a lot of organizations and real estate related media is hoping that 2020 is a much better year, but we'll have to wait to find out!
Next's month's blog article will contain a very visual representation of how similar and different the Regina real estate market was in 2018 & 2019. But overall, 2019 wasn't that bad compared to 2018. It might have actually been better in some ways.
Contact Me
If you have any questions about any of this information or would like to discuss buying or selling, you can give me a call at 306-552-7047 or fill out my online contact form.