Real Estate markets are unpredictable. We have suspicions of what's going to happen one year to the next but until the stats come out we really have no idea. This month in September, I am very pleased AND surprised that the ratio of sales to new listings for the month was 68% in the city. The average price of Regina homes for sale is down 10% from 5 years ago but we have a 68% sale to list ratio? What does that mean?
---
It means competing offers. It means that homes that went up for sale in September that sold within 30 days were priced right. It means that there is action happening in this market for people who are willing to play by the market's rules and price their properties accordingly. AND, it means that there are buyers out there looking for quality homes!
Here's what happened in the market:
---
During September, in the City of Regina there were 253 sales reported, an increase of 29.7% from 2018 when 195 were recorded. There were 306 sales reported during the month in all other geographic areas including Regina, up 29.7% from 2018 when 236 sales were posted.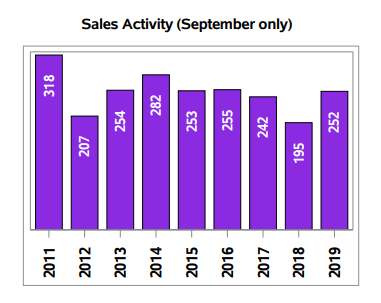 ---
Year-to-date (YTD), 2,522 homes have been sold in all areas, up 3.7% over last year's 2,431. In the city, 2,086 sales have been posted, up 6.6% from 2018's 1,957.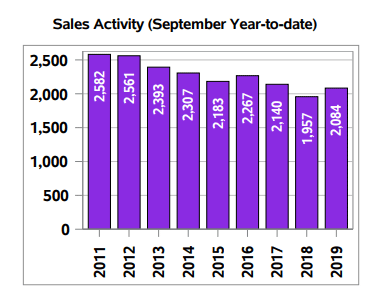 ---
The Composite Benchmark Price is down 11.2% from three years ago and 9.5% from five years ago.

For September, the MLS® Home Price Index (HPI) reported a Composite Benchmark Price of $266,800, down 3.9% from $277,500 one year ago. This reflects a general downward trend the market has experienced most of the year.
In Regina, there were 1,465 active residential homes for sale on the market at the end of September, down from 1,560 one year ago.
---
There were 491 new listings placed on the MLS® System during the month in all geographic areas, a decrease of 2.0% from 501 last year. YTD, new listings of 5,491 are down 9.1% from 6,041 in 2018. There were 369 listings posted in Regina, compared to 400 last year – a decrease of 7.8%. YTD, new listings in the city are down 9.8 % - 4,194 this year compared to 4,650 in 2018.
The ratio of sales to new listings for the month was 68% in the city and 62% all geographic areas. Balanced market conditions are generally in the 40-60% range – below 40% is considered to be more of a buyer's market - above 60% is considered to be a market favouring sellers.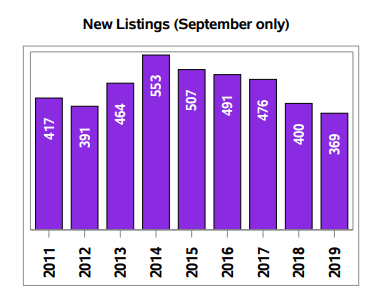 ---
The average days on market for Regina homes for sale is 65 days year to date.
With less inventory, a lower days on market and more sales happening we may be slowly, very slowly heading into a balanced market. I do think that because we are heading into the slower months of the year we will have to wait until spring 2020 to see how "balanced" the market gets. But until then, if the home is priced right its got a great chance of selling!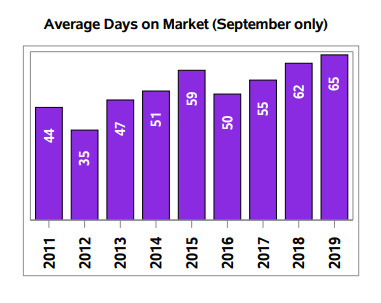 ---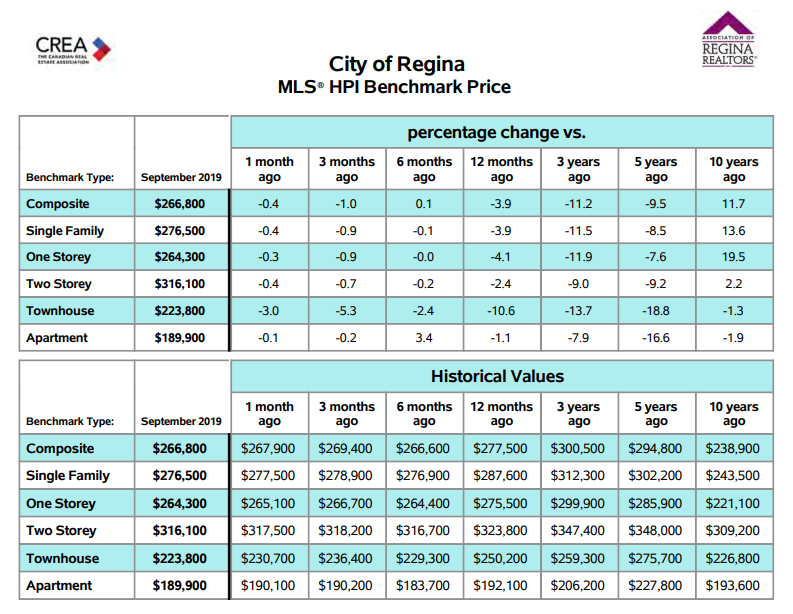 Contact Me
If you have any questions about current Regina homes for sale or you would like to chat buying or selling, I am available! You can fill out my online contact form or give me a call at 306-552-7047.