On October 17th, 2018, Canada made a huge stride to legalize cannabis across the country. It has been a long time coming that marijuana is made legal and the legalization has created many questions. Similar to alcohol, whether you agree with its effects or not, cannabis can be consumed in public and now bought and sold legally. But many homeowners, buyers and sellers are confused about how the new law will affect Regina real estate and many other marketplaces.
---
Here are the basics:
Adults will be allowed to buy, use, possess and grow recreational marijuana, under the law. In Quebec and Alberta, the legal age is 18; it's 19 in the remainder of the country.
Marijuana will not be sold in the same location as alcohol or tobacco. Consumers are expected to purchase the drug from retailers regulated by provinces and territories or from federally licensed producers when those options are not available.
Canada's government also made changes to impaired driving laws to address repercussions for driving under the influence of cannabis. The City of Regina states that it is ready for the change.
Legalizing cannabis is expected to create an industry worth more than $4 billion in Canada.
Unsurprisingly, on October 17th there were far more purchases made across the country than what stores could supply and many stores are still waiting for more inventory today.
How does Cannabis law effect Regina Real Estate?
Well, it's too early to say whether the new law will affect the economy so positively that housing prices will increase (we can only hope) but a number of laws, regulations and residential housing acts have been amended.
There is a 4 plant maximum per household.
I personally have yet to come across any marijuana plants while showing Regina real estate for sale, but I expect it's only a matter of time before it becomes a norm.
According to an article written by Zoocasa, "over half of homeowners – 57% – felt that growing even the legal amount of cannabis (up to four plants under the Cannabis Act) would have a negative impact on a home's value. This stigma extends to prospective home buyers, too: A total of 52% respondents say they'd be less likely to consider specific houses for sale if they knew even a legal amount of cannabis had been grown in them."
As a homeowner, one must understand that there is still a large degree of stigma attached to smoking and growing marijuana within a home. Many people still associate marijuana with grow ops and illegal activities.
"57% of homeowners felt that growing the legal amount of cannabis would have a negative impact on a home's value."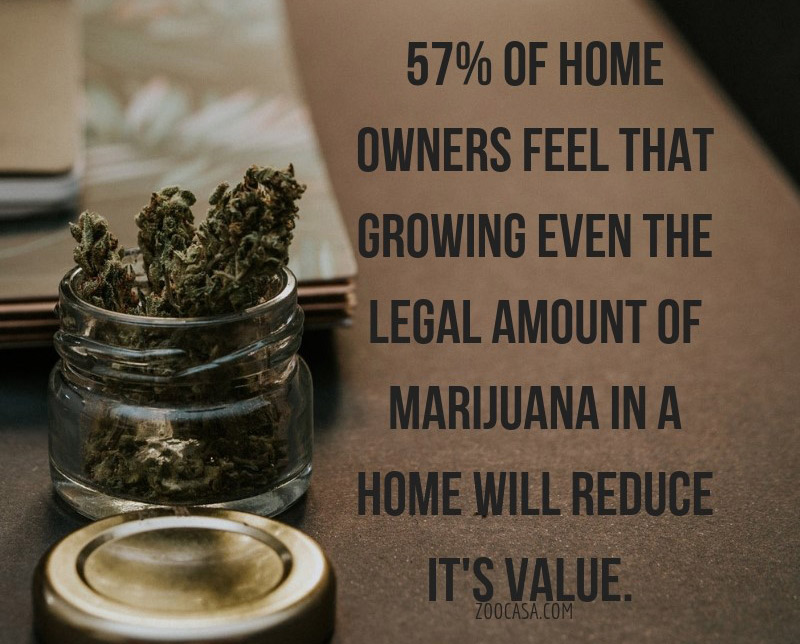 What About Condos?
The cannabis law and condominiums are a topic of concern for many condo board operators and owners. Condo boards cannot simply amend the bylaws to prohibit the use and growth of cannabis within a person's private property even though this seems like the easy solution, it would be a violation of human rights.
An article from Global News states: "to help navigate [condo] boards through their issues, real estate attorneys like Jamie Herle have been busy.
The most common concerns are shared air exchange, odour transfer, increased risk of fire hazards as well as the humidity, water and wattage needed for the plants to survive.
Because we all share the same water bill based on our unit factors and now if I'm paying for someone else to grow marijuana unless you're inviting me in to partake, it's not really fair, right?" explained Herle."
For rental properties, banning the use and growth of marijuana is allowed. The landlord is allowed to set these restrictions within a written lease agreement.
Before you decide to grow
Some mortgage brokers have stated that most financial institutions still frown upon marijuana use and will deny any financing applied on a home that has been flagged for having cannabis grown inside it. Canadians likely won't see these consequences until a few years from now.
Canadians are encouraged to give a second thought to growing or smoking cannabis within their homes to protect their market value, mostly because we still don't know how this whole thing is going to pan out long term. If you have any other questions about how the cannabis legislation effects Regina real estate, give me a call at 306-552-7047 or fill out my online contact form!