Based on sales activity during the month of October, home sales in Regina were in line with recorded sales over the last 2 years but were still below long-term averages. In summary, our Regina real estate market is holding. It hasn't decreased significantly in sales or average home prices for the last 6 months.
Here's what happened in the market:
---
There were 256 home sales reported during the month in all geographic areas (Regina, White City, Emerald Park, Balgonie, Pense etc.), up from 255 in 2018 and the same in 2017. This compared to the 5-year average of 274 and 10-year average of 291 sales. There were 203 sales reported in the city, a decrease of 5.6% from 2018 when 215 were recorded. The number of sales in the city was below the 5-year average of 229 and 10-year average of 248.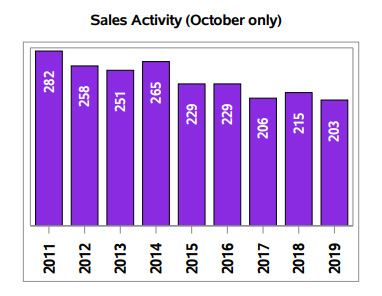 ---
Year-to-date, in Regina 2,289 sales have been recorded, up 5.4% from 2018's 2,172. Year-to-date, 2,778 homes have been sold in all areas, up 3.4% over last year's 2,686. I prefer to look at the total sales posted for the year as a measurement of how the market is doing because we can see that despite the drop in demand and the decrease in average home prices, the total number of homes sold is STILL comparative to 2018 and 2017, which is important to know!
---
For October, the MLS® Home Price Index (HPI) reported a Composite Benchmark Price of $259,900, down 6.8% from $278,700 one year ago. The Composite HPI Benchmark Price is down 12.6% from three years ago and 11.5% from five years ago.

---
In the city, there were 1,395 active Regina real estate listings for sale on the market at the end of October, down from 1,594 one year ago.
There were 482 new listings placed on the MLS® System during the month in all geographic areas, a decrease of 10.2% from 537 last year. There were 383 listings posted in the city, compared to 438 last year – a decrease of 12.6%. Year-to-date, new listings in the city are down 10.0 % - 4,577 this year compared to 5,088 in 2018.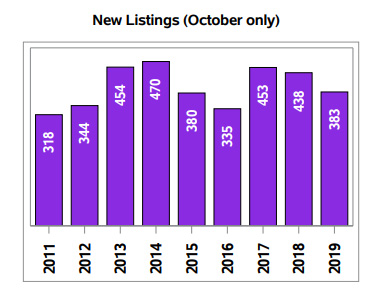 ---
The ratio of sales to new listings for the month was 53% in the city and the same in all geographic areas. Balanced market conditions are generally in the 40-60% range – below 40% is considered to be more of a buyer's market - above 60% is considered to be a market favouring sellers. These stats indicate a balanced market however my professional opinion on this is that the Regina real estate market is not balanced but that there is a strong demand for good quality homes under 350K.
Average days on market in October increased to 77 days, compared to the average DOM for the entire year of 64 days.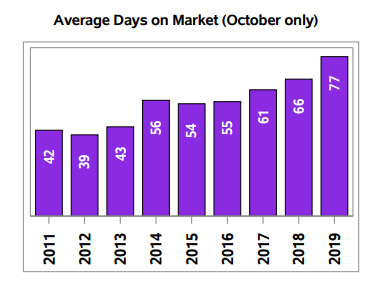 ---
Sellers are advised to do their research when choosing an agent in this market as a high days on market can drastically effect the success of a sale and buyers are encouraged to look into their ability to buy. Home prices haven't been this low for many years and there are many great properties to buy with an abundance of inventory!
Contact Me
If you have any questions about the market or would like to chat buying or selling, give me a call at 306-552-7047 or fill out my online contact form!