Hello September! It's been an interesting Regina real estate market to watch through the year. I enjoy these monthly market updates because it gives me an opportunity to look deeper into what's happening in our city. The market statistics bring me comfort! Because with the information I have, I know how to answer the question my current & future clients inevitably ask—"How's the market doing?"
---
And my response is always "It's not bad… Here's what's interesting" and then I go off into a tangent about what I'm experiencing with my clients.
But August of 2019 has been like much of the rest of this year where YES, we have a ton of inventory. YES, condos & townhomes have come down in price. YES, the average day's on market is longer. And yet, so many listings are receiving multiple offers. MULTIPLE OFFERS in a recession? That's crazy! It's because despite the inventory, there are buyers out there looking for specific kinds of homes and they are jumping at their opportunities when they hit the market. Price is important right now; but you don't need to "underprice" to sell your home.
---
So, how is did the Regina real estate market do in August 2019?
Activity and sales in August 2019 exceeded what we saw in 2018, but the numbers are still below five- and ten-year averages.
There were 247 sales reported in the City of Regina, down 0.4% from 2018 when 248 home sales were posted. There were 314 home sales reported during the month in all geographic areas (Regina, White City, Emerald Park, Lumsden etc.) which is up 3.0% from 2018 when 305 sales were posted.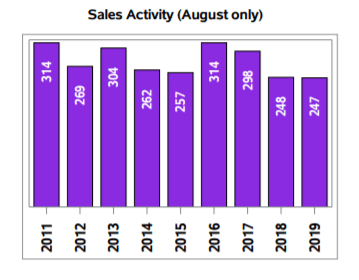 ---
For the year-to-date, 2,216 homes have been sold in all areas, up 1.0% over last year's 2,195. In Regina, 1,833 sales have been posted, up 4.0% from 2018's 1,762.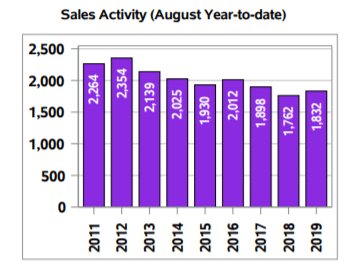 ---
For August, the MLS® Home Price Index (HPI), a much more accurate measure of housing price trends than average or median price, reported a Composite Benchmark Price of $267,900, down 3.9% from $278,700 one year ago. This reflects a general downward trend, indicating downward pressure on home prices due predominately to elevated supply levels and lower levels of demand.
The Composite Benchmark Price is down 10.5% from three years ago and 9.4% from five years ago.
---
The Regina real estate market showed 1,560 active residential listings for sale on the market at the end of August, down from 1750 listings (less 190 homes) one year ago.
There were 549 new listings placed on the MLS® System during the month in all geographic areas, a decrease of 15.9% from 653 last year. For the year-to-date, new listings of 4,990 are down 9.9% from 5,540 in 2018. There were 437 listings posted in the city, compared to 513 last year – a decrease of 14.8%. Year-to-date, new listings in Regina are down 10.0 % at 3,825 this year compared to 4,250 in 2018.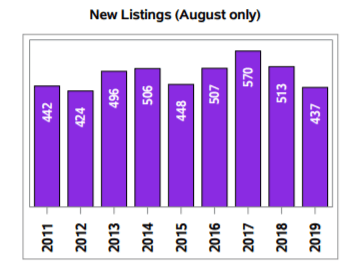 ---
The ratio of sales to new listings for the month was 56% in the city and 57% all geographic areas. Balanced market conditions are generally in the 40-60% range – below 40% is considered to be more of a buyer's market - above 60% is considered to be a market favouring sellers.
Average days on market for homes in Regina was 62 days.
Overall, Sales are slightly up, new listings are slightly down, homes prices are down 4% from this time last year and we had a 56% list-to-sell ratio. In my opinion, these numbers sound pretty good but they don't represent what is happening in the "micro" markets in Regina. Single family homes under 400K are selling quickly (as long as they are priced well). Condos & townhomes are still struggling and homes over 500K are moving very slowly.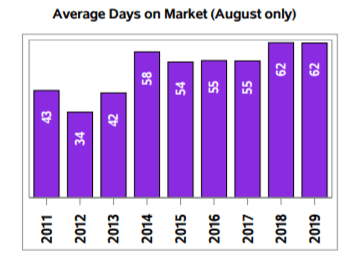 ---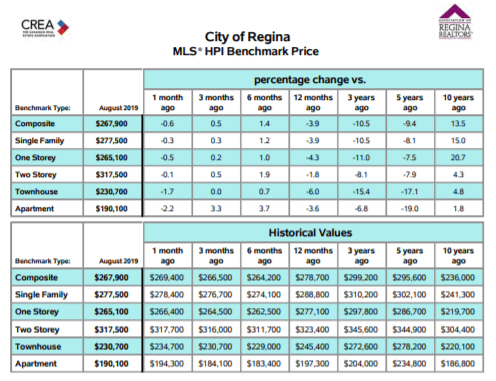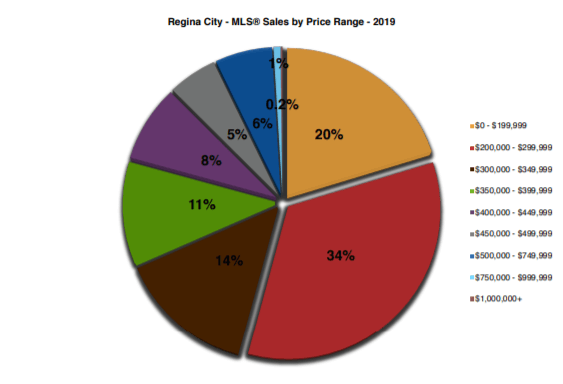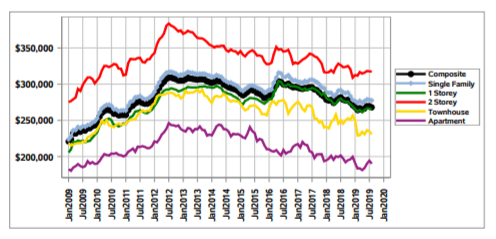 ---
"Looking ahead, both projected economic and job growth in the local area are encouraging. This should translate into an uptick in demand and sales. There has been no better time for a buyer to purchase a home – there's plenty of choice and prices are at their lowest level in many years" concluded Gord Archibald from Association of Regina REALTORS® Inc.
I would have to agree with Gord, the prices of homes are lower than we've seen in years and only the most competitive listings will sell!
If you would like more information about the Regina real market or you would like to discuss buying or selling, give me a call at 306-552-7047 or fill out my a online contact form!