While the data for Regina real estate during the month of July doesn't show massive improvements, it is headed in the right direction! Sales for July 2018 were just slightly up from sales in 2017. Several factors are still playing into our slower market; the economy, mortgage changes, government etc. But there are mortgage changes on the horizon that should make buying a home easier for small business owners and self-employed people.
---
Here's What Happened In Regina Real Estate During July:
There were 376 residential sales reported in all geographic areas (Regina, White City, Emerald Park, Grand Coulee, Balgonie, Pilot Butte), up 3.8% from 362 reported in 2017. Sales in Regina are slightly up with 240 occurring compared to 238 in 2017, still below the five and ten-year averages of 280 and 281.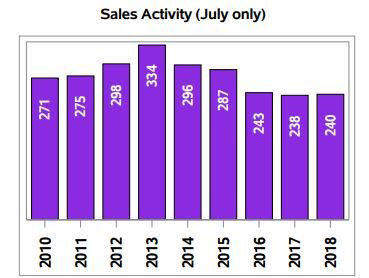 Listing Inventory Remains At Higher Than Normal Levels
Inside the city of Regina at the end of July, there were 1,751 residential properties for sale. There were 514 new listings placed on the MLS® System in the city during July, much more than the 419 listings added in July 2017. The additional pressure on housing inventory in July will go on to affect the performance of August's sales.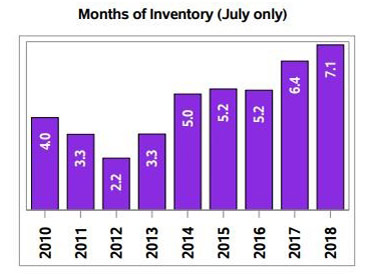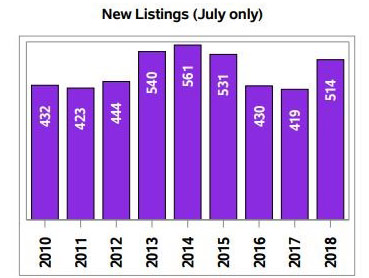 It's important to note that approximately 26% of Regina's inventory is currently made up of condominiums. That's about 456/1751 listings on the market which is a result of the over building Regina real estate has incurred the last few years. This abundance of condo's saturates our market, affects the inventory, average price of homes in the city and average days on the market. The many condo listings have a negative effect on many other market factors.
Year-to-Date, Listing Inventory Is Up 2.8% In The City
For July, the MLS® Home Price Index (HPI) reported a composite residential price of $281,100 and index of 260.4 in the city, down 4.8% from last year's levels of $295,300 and 273.6.
Most Regina homes that were on the market in July, were on the market for an average of 64 days before selling compared to 50 days at this time last year.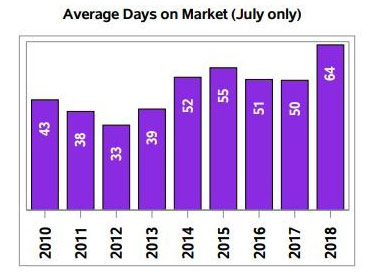 The ratio of firm sales to new listings for the month was 46% in the city and 49% in all geographic areas (not including Moose Jaw). Balanced market conditions are generally in the 40-60% range – below 40% is considered to be a buyer's market and above 60% is considered to be a market favouring sellers.
At 46% (sales to new listings) for Regina real estate, this indicates that while we're still leaning into buyer's market conditions, seller's have a good chance at a successful home sale.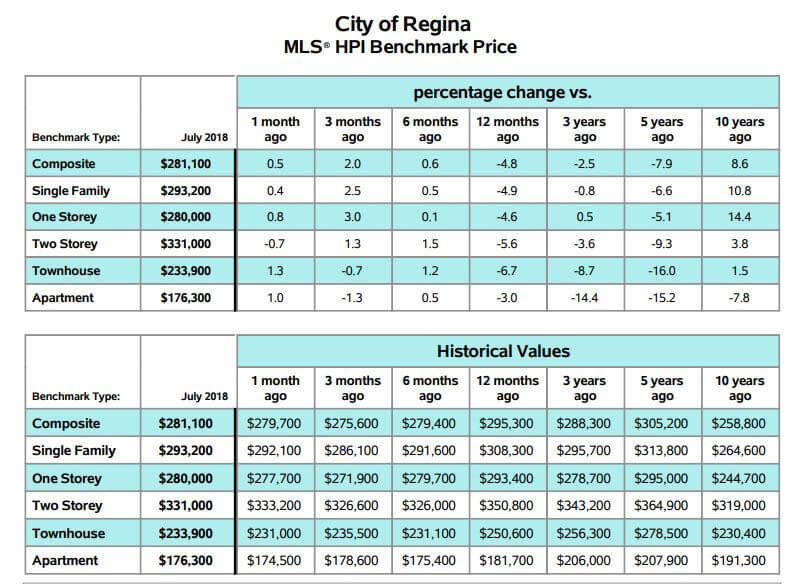 "With the traditional listing season coming to an end, we still see elevated listing inventories across the city. However, sales appear to be rebounding slightly. The price trend also appears to be stabilizing after many months of decline," said Rob Reynar, Manager of Operations of the Association of Regina REALTORS® Inc.
Contact Me
If you have questions about the Regina real estate market or would like to know the value of your own home, give me a call at 306-552-7047 or fill out my online contact form.