What goes up, must come down, right? In July, it looked like sales and prices were improving but it appears that is not the case. The Association of Regina Realtors and other industry related people are saying that the slow sales are a result of the mortgage changes we saw earlier this year. I do believe that the government's actions of making it twice as difficult for the average person to qualify for a mortgage have had a major effect on our market. Massive local companies are laying off employees, many tradespeople are looking outside of the province for work. Companies are bidding lower and lower on jobs. Unions are running dry; the list goes on!
---
Another issue I suspect might be causing people to hold off on buying homes in Regina is the growth of our rental housing. Altern, Porchlight Developments, Northview and many smaller investors have built or renovated thousands (15,000+) of rental units. These units are brand new. Quartz counters, hardwood flooring, never been lived in rental units. They are very appealing! Many new Canadians and first time home buyers are taking advantage of the new units! Which is great for the quality of their lives, but these rentals just border on not being affordable, which means people can afford to live in them but they have no extra cash flow to go towards a down payment.
Now that we know what factors are contributing to the slow Regina housing market, let's look at the stats:
There were 305 sales recorded during the month in all geographic areas (Regina, White City, Emerald Park, Balgonie, Grand Coulee, Pense), down 15.8% from last year when 362 sales occurred. This is the lowest level of sales since 2008 when 254 sales were recorded. There were 248 sales recorded in the city, a decrease of 16.8% from 2017 when 298 sales were posted. The number of sales in the city was below the 5 and 10-year average.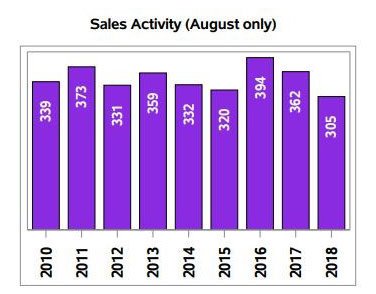 For the August year-to-date there have been 2,195 sales recorded in all areas, down 5.6% from 2,324 in 2017. In the city, there have been 1,762 sales compared to 1,898 last year, down 7.2%. So in the city, that's a difference between 136 houses not sold this year. It doesn't seem like a huge number, but that's 136 people that didn't successfully sell their home and 136 that didn't buy a home.
That being said, it doesn't take much to slow the Regina housing market right down.
For August, the MLS® Home Price Index (HPI), a much more accurate measure of housing price trends than average or median price, reported a composite benchmark residential price of $277,600, down 4.8% from $291,500 at the same time last year. This is part of a price loss trend that began one year ago and is now 8.7% below the composite price reported in August 2013 of $304,100. So this means that for anyone who bought a home 1-2 years ago, your property probably isn't worth as much as you bought it for (if you haven't made any improvements).

1,750 active residential listings on the market at the end of August, up 13.9% from August 2017.
The number of active listings has been in the 1,750 range since May, which provides some stability on the supply side but this is still way too much inventory for the Regina housing market.
In Regina, there were 513 new listings added, a decrease of 10.0% from 570 in 2017. This also contributed to stabilizing the level of supply in the city.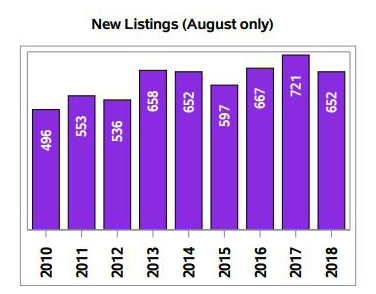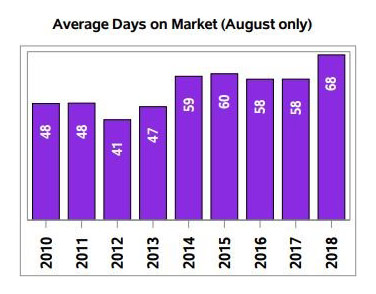 Homes that did sell in the city sold in an average of 62 days in the city and 68 days in all areas.
"A slower economy coupled with federal mortgage rules making it more difficult for buyers to qualify for financing have influenced the demand side of the local market. These rules, primarily intended to cool off overheated markets in Vancouver and Toronto, have been applied to all markets in the country whether needed or not", said Gord Archibald, Chief Executive Officer of the Association of Regina REALTORS® Inc.
"The effect of a slower economy has only been exacerbated by these rules which were not needed in this market. This has not only hurt buyers but also sellers and all homeowners through lower home values and equity. They should be applied on a regional basis where needed, not with a broad-brush across all Canadian markets", concluded Archibald.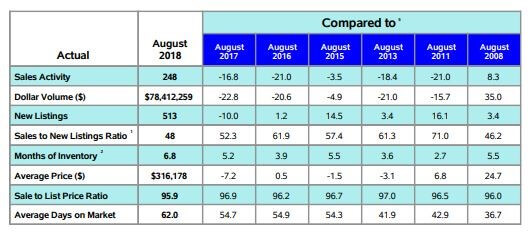 Archibald is right, the entire country was hit with mortgage rules that should have only applied to the centre's that needed them. It is unfortunate to say the least. The mortgage rules did have a positive effect, protecting buyers from stretching their affordability if the mortgage rates continue to increase and in turn not be able to afford their mortgage payment, but in hindsight, it did more harm than good.
Contact Me
If you have any questions about this or would like more information on Regina's housing market, give me a call at 306-552-7047 or fill out my online contact form.