"Based on activity through the Regina and area MLS® System, Regina homes sales in June were below both 2018 and long-term averages, said the Association of Regina REALTORS® Inc." These aren't exactly the words you want to hear during what is supposed to be the busiest time of year for home sales, yet it's not all bad.
---
What I am seeing on the market is that a lot of homes that have been listed for 2-5 months are finally selling, yay for those sellers! Also, a large majority of homes that are aggressively priced are selling quickly, accepting offers within the first 48 hours of being on the market.
Let's take a look at Regina Home Sales:
There were 299 sales reported during the month in Regina & area, down 17.2% from 2018 when 361 sales were posted. This marks the lowest level of sales since 2005 when 298 sales occurred. There were 248 Regina home sales reported in the city, down 12.7% from 2018 when 284 were posted. Regina home sales during June for the city of Regina & area were both below 5 and 10 year averages.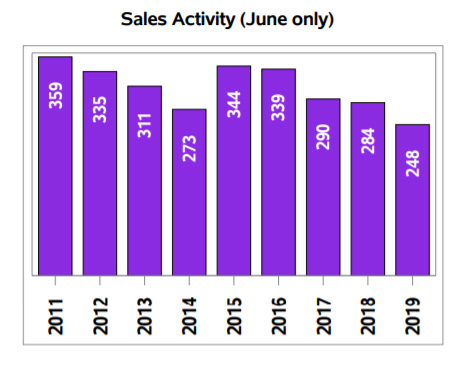 ---
Year-to-date, 1,592 homes have been sold in all areas - an increase of 1.3% over last year. In the city, 1,335 sales have been posted, up 4.8% from 2018.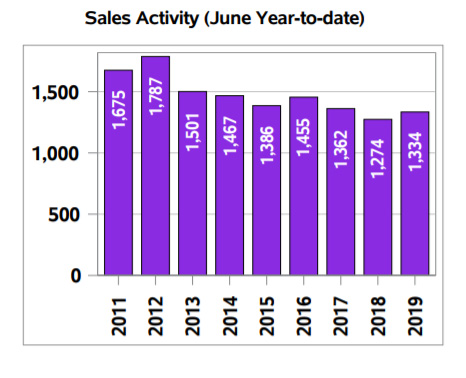 For June, the MLS® Home Price Index (HPI), a much more accurate measure of housing price trends than average or median price, reported a Composite Benchmark Price of $269,400, down 4.0% from $280,800 one year ago. This reflects a general downward trend, indicating downward pressure on home prices due predominately to elevated supply levels and lower levels of demand.
The Benchmark Composite Price is down 10.1% from five years ago.
In the city, there were 1,594 active residential listings for sale on the market at the end of June, down 8.5% from 2018's 1,743 at the same time, although still well above historical levels. The decrease is primarily due to fewer new listings coming on the market so far in 2019.
---
There were 620 new listings placed on the MLS® System during the month in Regina & all other areas, a decrease of 16.2% from 2018's 740. YTD, new listings of 3,791 are down 10.6% from 4,238 in 2018. There were 471 listings posted in the city, compared to 583 last year – a decrease of 19.2%. YTD, new listings in the city are down 10.3% - 2,892 this year compared to 3,223 in 2018.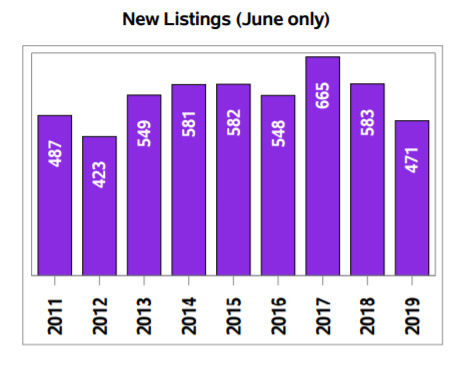 ---
Average days on market in the City was only 56 days!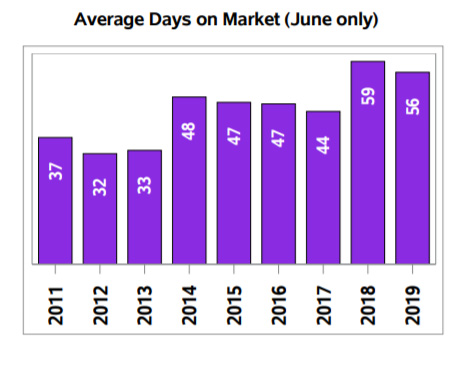 ---
The ratio of sales to new listings for the month was 52% in the city and 48% all geographic areas! Balanced market conditions are generally in the 40-60% range – below 40% is considered to be more of a buyer's market - above 60% is considered to be a market favouring sellers. We caution that this would need to persist for a number of more months before the market would be considered to be in balance BUT I am thrilled to see some equality between buyers and sellers!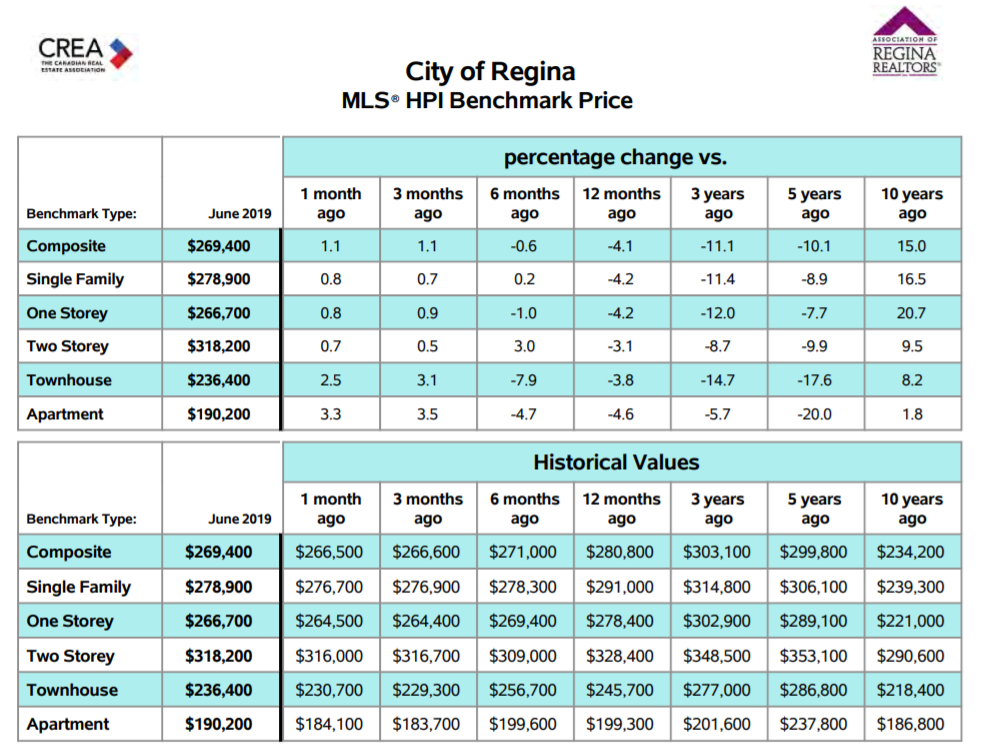 Comparing the number of Regina home sales for the month against the number of listings for sale, there was 6.4 months of inventory on the market at the end of June. This is up from 6.1 months last year and substantially more than any June in the previous ten years. This reflects historically high levels of inventory along with weakened demand and fewer sales.
"After a comparatively good start to the year up to April, sales levels in May and June were very disappointing, falling well below historical levels. These two months are typically two of the strongest each year, but that was not the case in 2019," said Gord Archibald, Chief Executive Officer of the ARR.
Overall, prices are down, the number of sales are down and inventory is still at a high. It doesn't seem like there is a whole lot of positivity going on for Regina home sales, but everyday I can see homes receiving multiple asking price offers. It depends how prepared sellers are to list their homes in line with current market conditions.
Contact Me
If you would like to discuss strategy or the process of selling a home in 2019, please give me a call at 306-552-7047 or fill out my online contact form!