Usually, by October we can start to see how the rest of the year is going to unfold, whether or not November and December will be strong months for real estate in Regina or if buyers and sellers will be caught up in the chaos of the cold and holidays. While we are finally able to see how the entire year has unfolded, its unclear whether or not November and December will be further below 5- and 10-year averages
---
Let's take a look at what happened with Real Estate in Regina in October!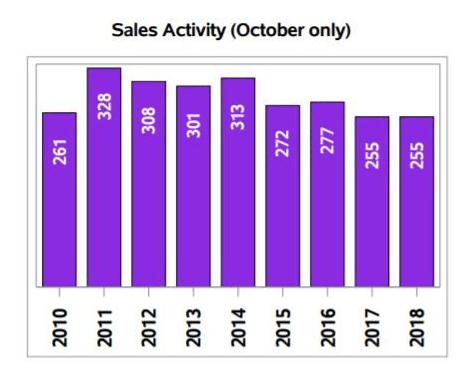 There were 255 sales recorded during the month in all geographic areas ((Regina, White City, Pense, Grand Coulee, Balgonie, Pilot Butte etc.), identical to the number of sales posted in 2017. With the exception of last year, this is the lowest level of sales since 2008 when 231 sales occurred. There were 215 sales posted in the city, an increase of 4.4% from 2017 when 206 sales were reported. The number of sales in the city was also below the 5-year average of 238 and 10-year average of 244.
For the October year-to-date in Regina, there have been 2,172 sales compared to 2,346 last year, down 7.4%. There have been 2,687 sales recorded in all geographical areas, a decrease of 6.5% from 2,874 in 2017.
---
Regina Down Approximately 174 Home Sales Year To Date
For October, the MLS® Home Price Index (HPI), a much more accurate measure of housing price trends than average or median price, reported a composite benchmark residential price of $277,100 and index of 259.4 in the city, down 3.6% from $287,400 at the same time last year. This is part of a price loss trend that began one year ago, and is now 8.9% below the composite price reported in October 2013 of $304,500.
---
Housing Prices Down 8.9% From 5 Years Ago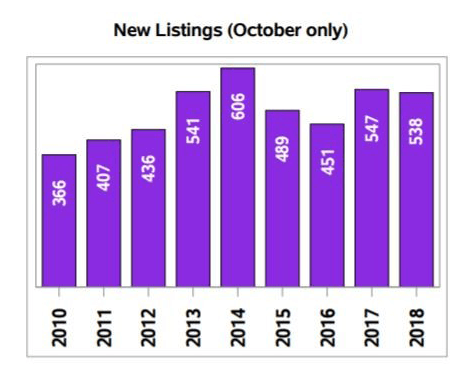 In the city, there were 1,594 active residential listings on the market at the end of October, an increase of 10.4% from 2017's 1,444 but down from 1,652 listings at the end of September 2018.
There were 538 new listings placed on the MLS® System during the month in all geographic areas, down 1.7% from 2017's 547.
---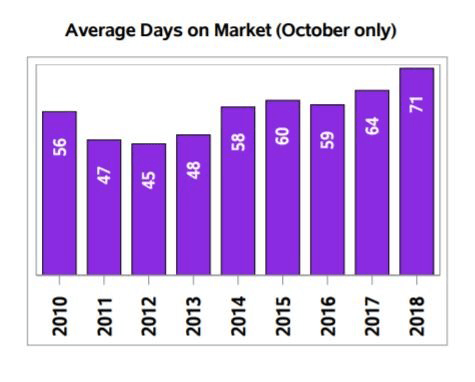 Real estate in Regina that did sell sold in an average of 66 days in the city and 71 days in all other areas. These compare to 61 and 63 days respectively last year.
---
Stated within the last couple of Regina real estate market updates is that the new stress test rules have severely impacted our market, which holds true. According to this article by Globe & Mail some 18% of Canadian home buyers have either been affected by the stress test or forced to leave the market altogether. When you impact Canada's ability to buy by 18%, it has a huge ripple effect on the economy. .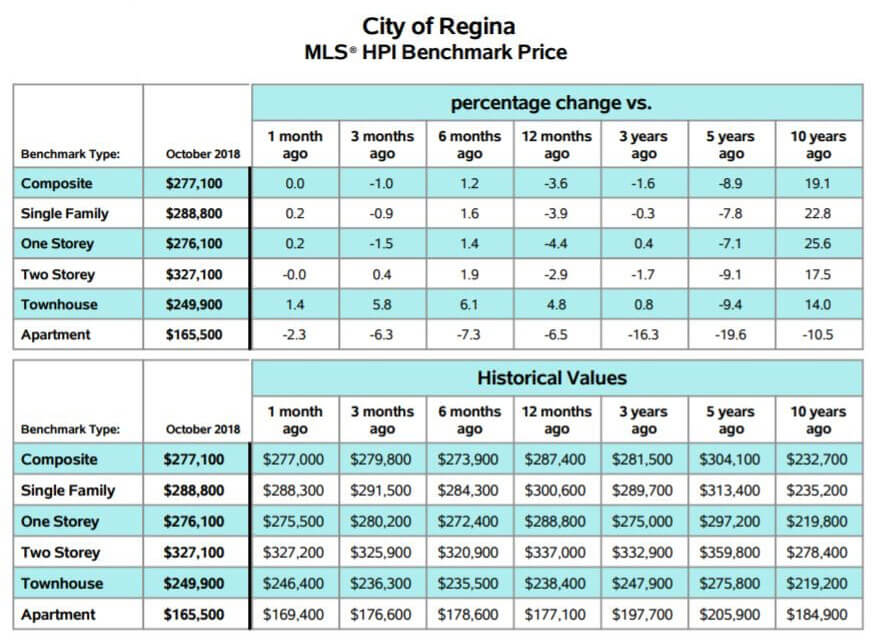 "Although there was some room for optimism in the October results, we continued to see the basic pattern of weakened demand for economic reasons and due to more difficulty for buyers to qualify for mortgage financing. There also continues to be historically high number of listings for sale on the market", said Gord Archibald, Chief Executive Officer of the Association of Regina REALTORS® Inc.
"We are anticipating a similar market trend for the remainder of the year. While there is plenty of choice of homes in most areas for buyers, sellers are well advised to set their asking price by taking current market conditions into consideration", concluded Archibald.
It's an interesting time to buy real estate in Regina and certainly has proved to be a challenging market but as I've stated before; there are buyers and sellers who are making huge wins in this market and you could be one of them!
Contact Me
Contact me to discuss what could be the next step for you! You can reach me by phone at 306-552-7047 or by using my online contact form!