Currently, there are new developments happening at every end of the city. The north, south, east and west sides of Regina are all expanding and growing. New developments in Regina are becoming smarter, greener and more community focused. The developers are starting to increase community activity and involvement through thoughtful design concepts. Incorporating more activities, nature and accessibility into the communities is improving quality of life of all residents.
---
Westerra
Located far West down Dewdney Avenue and past Courtney Street, Westerra is a new 490-acre community offering a variety of single-family and multifamily homes. Westerra is developed by Harvard Communities and Forster Projects.
Westerra is visioned to be an inclusive community with food, multimodal transportation, housing, recreation, education, shopping and employment. There are plans for a future joint school. The plans for the community include 700,000 sq ft of retail space featuring a grocery store, gas station, drug store, banks, hotels and fast-casual & dine-in restaurants. Boutique stores on West Market Street will increase the foot traffic in this pedestrian-friendly area.
Westerra is a walkable community focused around a central community park, complemented by neighbourhood parks and connected by local and regional pathway systems. The community is built to promote a healthy environment and an active lifestyle. Residents have the option to bicycle and/or walk to and from work and shopping within the community. The parks bring residents together as gathering places throughout the community to promote social and recreational interaction. Residents will enjoy easily accessible playgrounds, sports fields and green spaces.
The name Westerra [west|terra] means "west" which is for the location and "terra" which is Latin for land.
Builders that are permitted to build in this community are Trademark Homes, Rohit Communities, Glenrose Homes, Pacesetter Homes, Daytona Homes and Homes by Dream.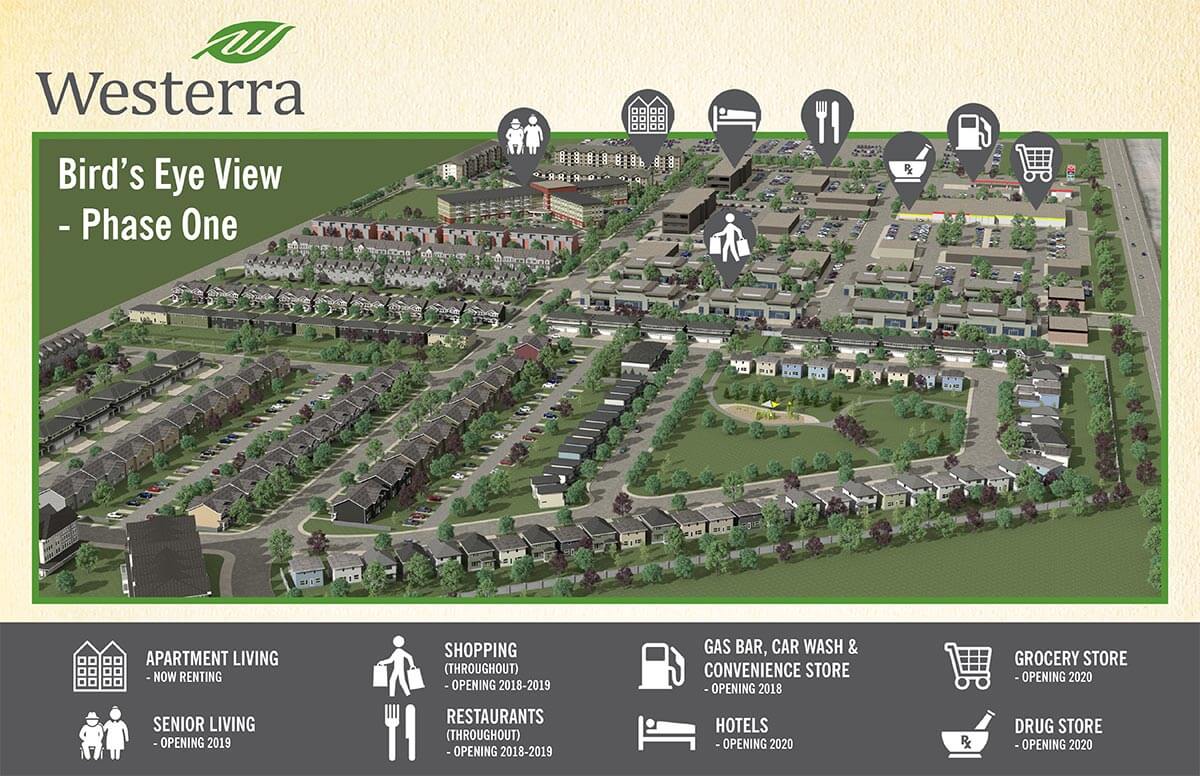 Hawkstone
Hawkstone is another one of the new developments in Regina, located in the north end of the city, right off Rochdale Boulevard. This modern and practical community is conveniently situated close to every amenity. Designed around the principles of sustainability and efficiency, Hawkstone utilizes space and functionality to provide a smart alternative to housing needs.
Hawkstone will have approximately 535 single family homes and 1350 Multi-Family units for a total population of approximately 4,500 residents. In addition to the residential component, Hawkstone will also have commercial development in a later stage.
The Argyle Street arterial road is now open and provides two exits to and from the community. It was deemed unsafe by the city to have Rochdale Blvd connect to Albert Street so those streets will never merge.
The builders permitted to build in this community are Gilroy Homes, Sthamann Homes, Varsity Homes, Daytona Homes, Homes by Dream, Crawford Homes, Northridge Homes and Pacesetter Homes.
There are no self-builds allowed. Vacant lots must be purchased through one of the permitted builders.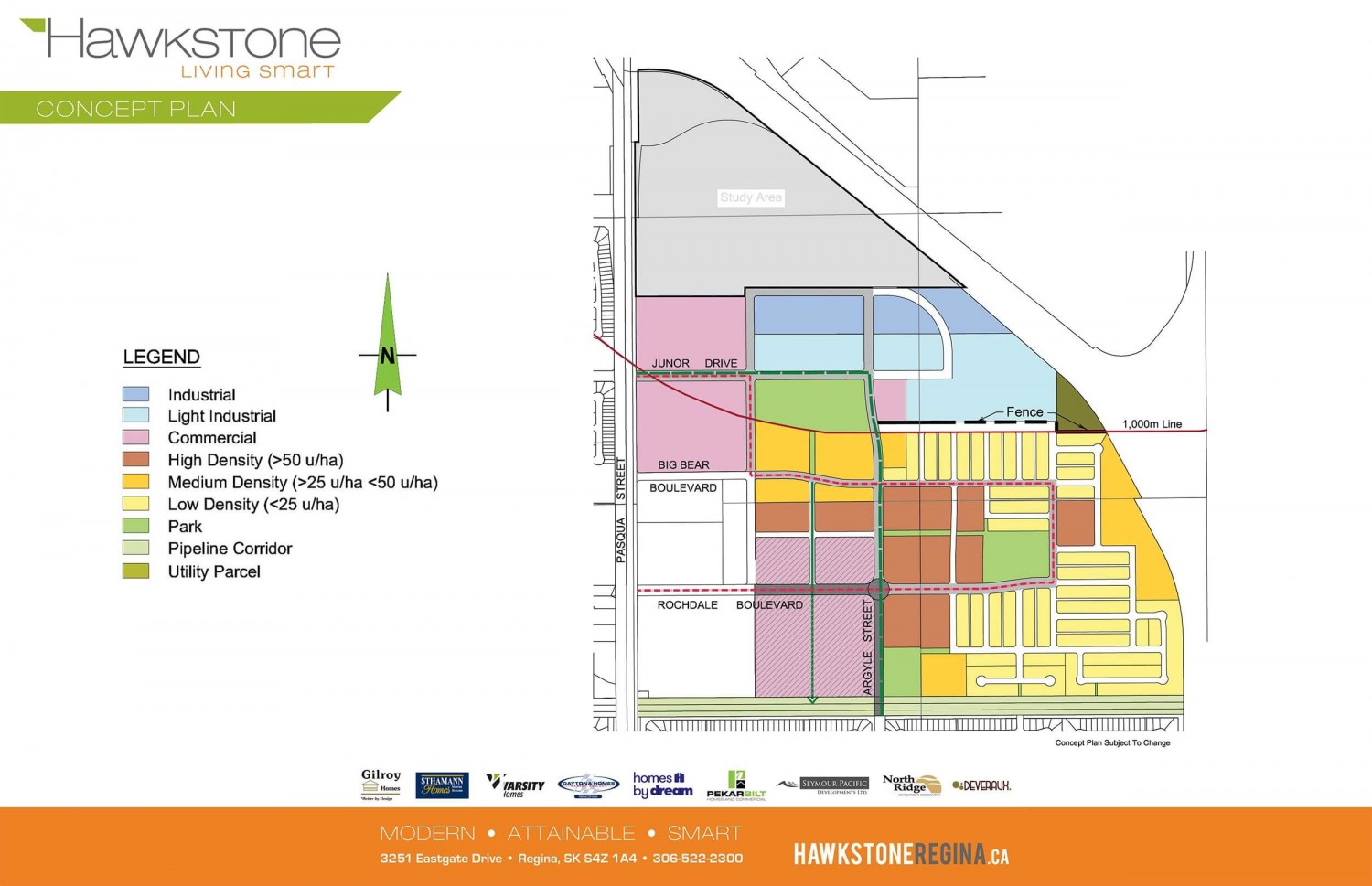 The Greens on Gardiner
The Greens on Gardiner is in stage 6 of development. The joint elementary school opened in the fall of 2017 and the community is almost finished. The commercial buildings are in the process of construction and will open early 2019.
Unlike other new developments in Regina, The Greens offer's over 30 builders to choose from. All who strive to achieve "greener" homes. Single-family homes, multifamily homes, condominiums, and townhouse style homes are all available in this community.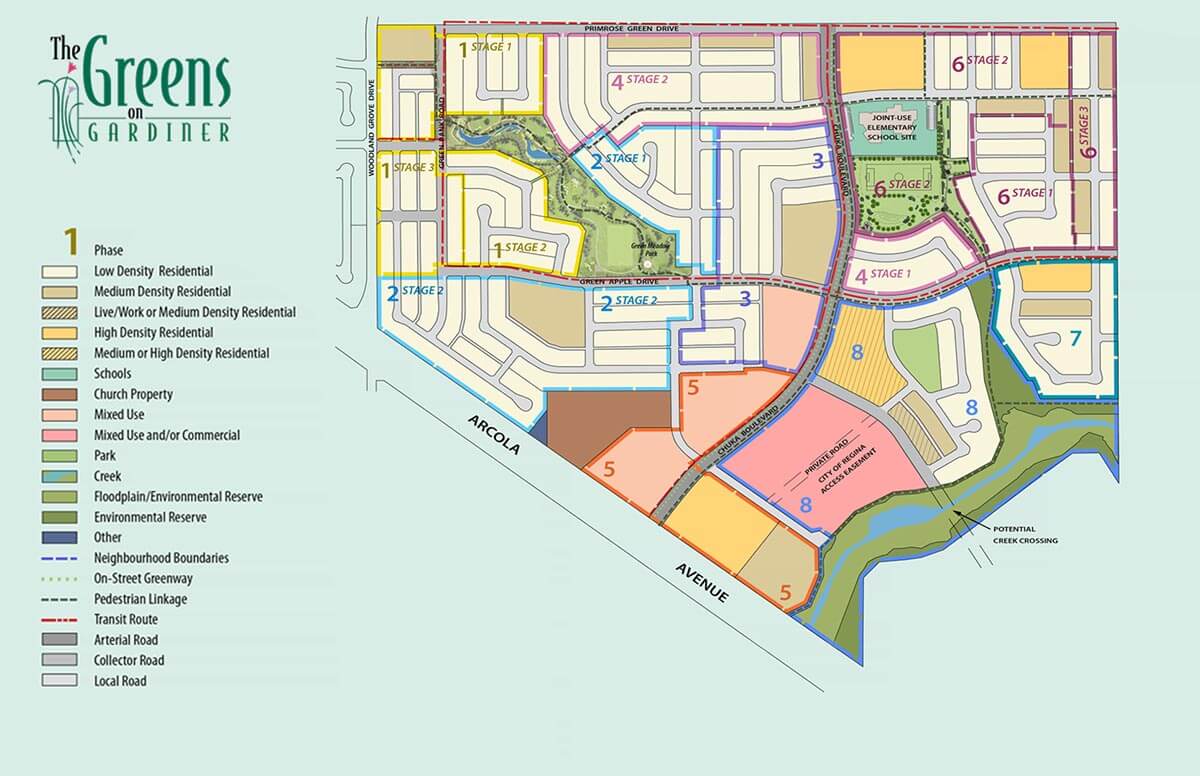 The Creeks
The most prestigious of new developments in Regina, in The Creeks resides some of the most luxurious homes in the city. Located to the right of Arcola Avenue, off Chuka Boulevard.
There are 625 residential lots with housing design guidelines to enhance street appeal and secure your new-home investment. The implementation of Design Guidelines ensures a premier quality home environment and protects individual property investments by setting the minimum standards for excellence in design and construction.
There will be no commercial development in The Creeks. The Creeks has been planned as a low density community with spacious lots for a quiet, luxurious neighbourhood. Chuka Creek, which borders the southern boundaries of the development and flows into the adjacent McKell Wascana Conservation Project and more than 12 acres of landscaped park space, in addition to environmental reserve areas.
Permitted builders for The Creeks are Homes by Dream, Trademark Homes, Crawford Homes, Varsity Homes, Sthamann Homes, Alair Homes, Emerald Park Homes, Harmony Builders, Aspen Homes, Northridge Homes, Munro Homes, Ripplinger Homes, Gilroy Homes, Fiorante Homes, Kratz Homes, Deveraux Homes and Ultima Homes.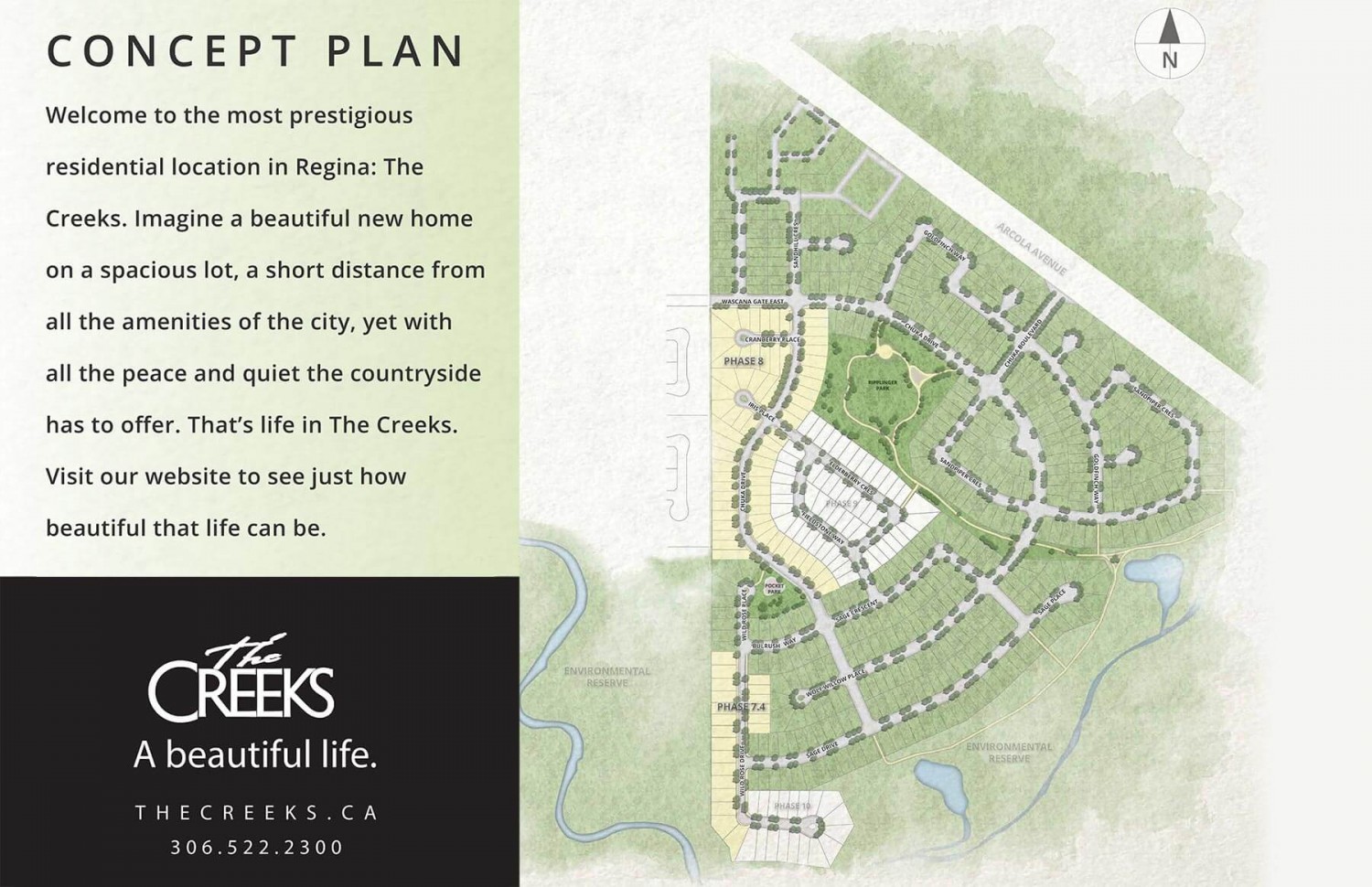 Currently, there are 11 new developments in Regina
Harbour Landing, The Towns, Maple Ridge, Coopertown and Edgewater are also communities in Regina that are currently being built. If you would like more information on any of these developments, please call me at 306-552-7047 or fill out my online contact form!