Lately, I've been hearing an immense amount of negativity involving Regina, Saskatchewan and Canada as a whole. I admit, I too have contributed to the negative talk and gossip. But recently I've decided to both look at the brighter side of things and look at some of the positives of Regina real estate and Canada in general.
---
There are a lot of worse places to live. I'll put it bluntly like that. A first time home buyer isn't looking at a starter home in the million dollar price range, nor is their rent for a 1 bedroom apartment upwards of $2000.00 a month.
Regina, Saskatchewan currently has one of the most affordable real estate markets in Canada. Compared to Saskatoon, a very similar city, our average housing price is much lower. Which means that the likely hood of our people being able to enter the housing market, despite that evil stress test, is still higher. Regina real estate didn't have the best year, no doubt. There are so many factors contributing to our economy right now, including all the fear mongering going around scaring people away from buying homes and keeping them renting.
Millennials are currently the biggest group in our population. According to CMHC's Research Insight: Long-term Household Growth Projections for Millennial Generation report, the number of millennial owned households is expected to more than triple by 2036.
An article from CREB shows a great graphic that demonstrates the average price of a home across Canada. As you can see, Regina is among the lowest. All this talk about "Canadian housing prices the highest ever in 28 years" are referring to the Vancouver and Toronto markets that have significantly different issues than the rest of Canada and don't show an accurate representation of what is actually happening.
---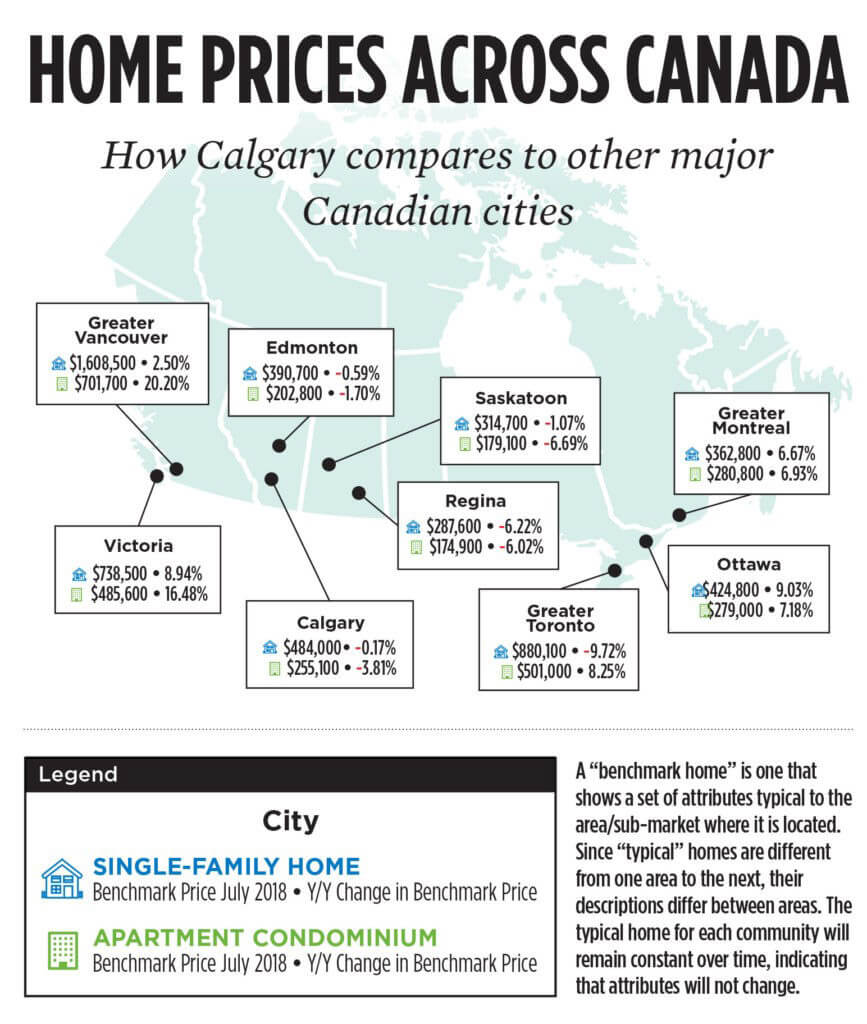 Now, here is what happened in Regina Real Estate over 2018:
First, let's look at Regina year over year:
A total of 3,032 sales occurred for Regina & all areas (Balgonie, Pilot Butte, White City Emerald Park, Grand Coulee etc) which is a decrease of 7% from 3,270 in 2017.
In the city of Regina alone for the entire year, there were 2,456 sales posted, down 8% compared to 2,676 in 2017. Remember the Association looks at this like 1 transaction, but in reality, there are two parts happening here. A sale AND a purchase.
The sales dollar volume of $919.8M posted in all geographic areas for the year was down 11% from 2017's $1,034.0M. Sales volume in the city of $760.7M was down 11% from 2017's $852.1M.
For the entire year, there were 7,172 new listings posted to the System, down 4% from 7,458 last year.
For the record, we have had the highest amount of inventory for many many months in 2018 but we still put up less homes on the market than the year before.
December 2018- December 2017:
For December, the MLS® Home Price Index (HPI), a much more accurate measure of housing price trends than average or median price, reported a composite benchmark residential price of $267,400, down 5.2% from $282,200 in December 2017.
In the city, there were 1,279 active residential listings on the market at the end of December. The number of listings peaked at 1,751 at the end of July.
116 sales recorded during the month in all areas, down 26% from 157 in 2017.
100 sales recorded in the city, a decrease of 24% from 2017 when 132 sales were reported.
201 new listings placed on the MLS® System during December in all geographic areas, down 33% from 2017's 301.
Homes that did sell in the city in 2018 sold in an average of 62 days. This compares to 53 days last year.
So, when we stop listening to media, you will come to understand that housing prices only dropped 5% from December 2017 to December 2018. You can see that the market sales, overall only dropped 7% from December 2017-December 2018. I've seen recent articles claiming the market is down 26% etc. You have to read the data correctly and stop listening to reporter's that don't understand the market.
Housing prices only dropped 5% year over year in Regina
Regina didn't have a great year. But it wasn't a terrible year either. Over 6000 purchase and sales occurred in Regina & area in 2018. There is much change yet to come and the market isn't expected to improve much in 2019 either. However, knowing that Regina is an extremely affordable place to live and majority of our buyers are first time home buying millennials, it's a PERFECT time to get into the market.
There has never been better opportunity to buy such great properties for such low prices. There are a ton of housing in many different styles and price ranges. I say: buy before it get's better not before it gets worse!
Contact Me
If you have any questions about how Regina real estate performed in 2018, give me a call at 306-552-7047 or fill out my online contact form!