Based on the market activity recorded in the first quarter, it appears that 2019 is off to a better start than 2018. I'm going to make a bold prediction that the first two quarters of 2019 will be better than what we saw in 2018 (keeping in mind that 2018 was the worst year for sales in over 20 years). A LOT of Regina residents held off buying and selling for many reasons.
---
Seller's were afraid; unsure if they would be able to successfully sell their home for a good price.
Buyer's had to hold off 6-9 months in order to save more money for a down payment in order to get around the stress test rules.
So, in the first quarter, we've seen fewer listings come onto the market which is amazing and we know that the buyers have come out of hibernation because we have had more sales so far in 2019 than what we had in 2018!
I can't explain to you how happy it makes my heart to see some positive numbers in the Regina housing market. I lean on the positive, more optimistic side of the spectrum but I definitely saw many business owners and seller's struggle in 2018. Simply for the sake of better vibes floating around Regina, I am thankful for positive numbers!
Here is the breakdown for the Regina housing market in March:
---
There were 237 sales reported during the month in all geographic areas (Regina, White City, Pilot Butte Balgonie etc.), up 10.8% from 2018 when 214 sales occurred. This marks the third consecutive month that sales were up over 2018! There were 207 sales reported in the city of Regina, up 19.0 % from 2018 when 174 were posted.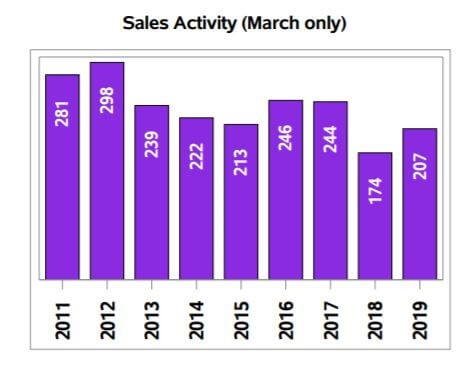 For the first quarter of the year, there have been 606 homes sold in all areas, a 5.6% increase over last year. In Regina, 520 sales have been posted, up 11.1% from 2018.
---
For March, the MLS® Home Price Index (HPI), a much more accurate measure of housing price trends than average or median price, reported a Composite Benchmark Price of $264,100 and index of 247.3 for sales in the city, down 4.6% from $277,000 one year ago. Despite some slight recovery in March from February, the Benchmark Price has continued a general downward trend, indicating downward pressure on home prices due predominately to elevated supply levels and weakened demand. Over the last five years, the Benchmark price is down 12.1%

---
In the city, there were 1,315 active residential listings for sale on the market at the end of March, down 6.7% from 2018's 1,409 at the same time, although still well above historical levels. The decrease is primarily due to fewer new listings coming on the market. There were 684 new listings placed on the MLS® System during the month in all geographic areas, a decrease of 2.0% from 2018's 698. Year-to-date, new listings of 1,559 are down 13.4% from 1,801 in 2018. There were 530 listings posted in the city, compared to 525 last year. YTD, new listings in the city are down 12.4 % - 1,220 this year compared to 1,393 in 2018.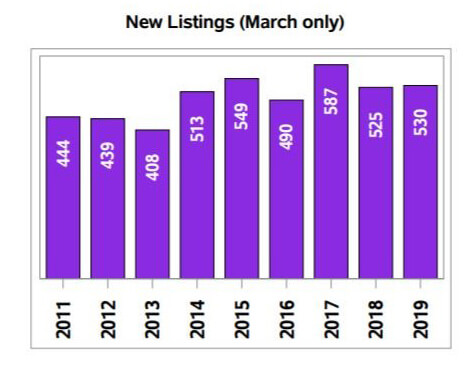 The ratio of sales to new listings for the month was 39% in the city and 34% in all geographic areas. Balanced market conditions are generally in the 40-60% range – below 40% is considered to be more of a buyer's market, while above 60% is considered to be a market favouring sellers.
---
The average days on market for homes for sale in Regina in March is 73 days.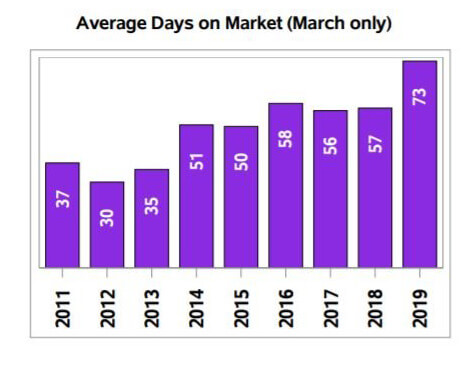 ---
Overall, it was a good month for the Regina housing market. The average price of a home is still down, which will probably remain this way for a few more years. Housing prices have been unaffordably high for a number of years and with the decrease in average home prices, we will see more people enter into the market.
Contact Me
If you have any questions about the Regina housing market in March give me a call at 306-552-7047 or fill out my online contact form!