---
New listing activity and sales for the Regina real estate market during the month of July are comparable to market conditions in 2018 but are below five and ten-year averages. With about a 50% list to sale ratio, July felt like a balanced market for many buyers and sellers. Our Regina market has made some massive changes in the last 3 years, leaving majority of us unsure what to think of the current market conditions. What I can tell you is that, yes, we've got a good amount of sales happening every month and prices are down from 5 years ago BUT it's not exactly 'balanced'. Single family home's seem to be selling very well but homes over 500K, townhomes and condo's are still very much struggling to be seen.
Let's get into the Regina Real Estate Market during July:
---
There were 314 sales reported during the month in Regina & area (White City, Emerald Park, Balgonie, Pense, Grand Coulee), down 1.6% from 2018 when 319 sales were posted. There were 254 sales reported in the city, up 5.3% from 2018 when 240 were posted. The number of sales for the Regina real estate market are below the 5-year average of 284 and 10-year average of 261.
In Regina only, 1,587 sales have been posted total YTD, up 4.8% from 2018. Year-to-date, 1,902 homes have been sold in Regina & all areas, down less than a percentage point over last year.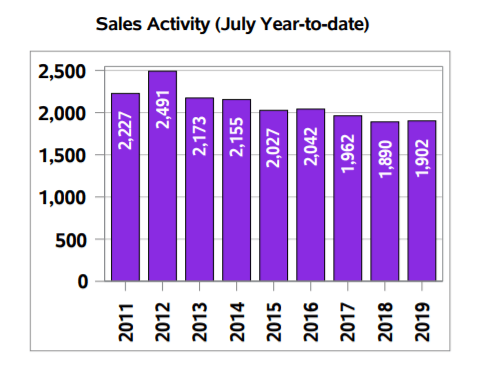 ---
For July, the MLS® Home Price Index (HPI), a much more accurate measure of housing price trends than average or median price, reported a Composite Benchmark Price of $269,400, down 4.4% from $281,900 one year ago but equal to June 2019. This reflects a general downward trend, indicating downward pressure on home prices due predominately to elevated supply levels and lower levels of demand.
The Composite Benchmark Price for the Regina real estate market is down 9.6% from five years ago.

---
In Regina, there were 1,624 active residential listings for sale on the market at the end of July, down 7.2% from 2018's 1751, however inventory levels are still historically high.
There were 650 new listings placed on the MLS® System during the month in all geographic areas, level from 2018's 649.
For the year-to-date, new listings for Regina & all other areas of 4,441 are down 9.1% from 4,887 in 2018. There were 496 listings posted in the city, compared to 514 last year – a decrease of 3.5%. Year-to date, new listings in the city are down 9.3% - 3,388 this year compared to 3,737 in 2018.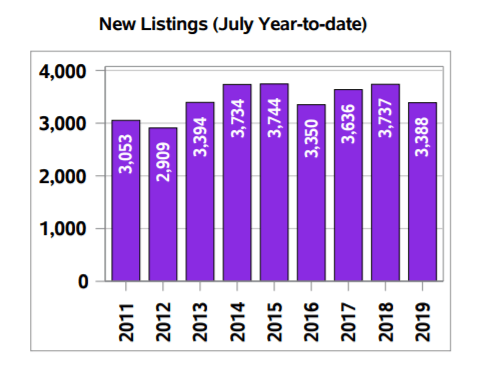 The ratio of sales to new listings for the month was 51% in the city and 48% all geographic areas. Balanced market conditions are generally in the 40-60% range – below 40% is considered to be more of a buyer's market - above 60% is considered to be a market favouring sellers. We caution that this would need to persist for a number of more months before the market would be considered to be in balance.
In the city of Regina, there have been 1,587 sales posted for Regina YTD, and 3,338 new listings put on to the market YTD.
Comparing the number of sales for the month against the number of listings for sale, there was 6.3 months of inventory on the market at the end of July. This is down from 7 months last year.
---
In Regina & area the average days on market was 68 days which is very comparable to this time last year.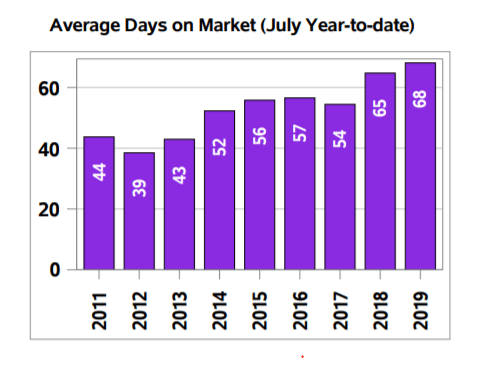 ---
"Although sales for the city are below 5 and 10-year averages, they have jumped over numbers posted in July of '16,'17, and '18, which is good news for the overall market", said Rob Reynar, Manager of Operations of the Association of Regina REALTORS® Inc.
"The market appears to be swinging more into balance as we continue through the summer months." Concluded Reynar.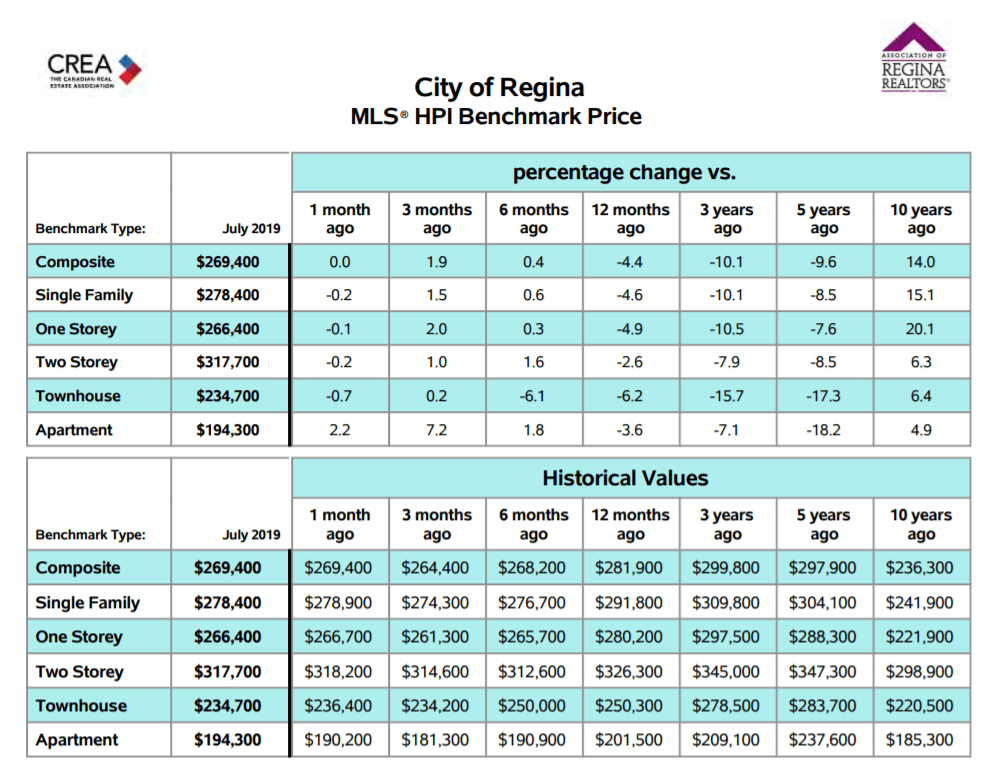 As a Regina Realtor®, I will continue to watch the market for a few more months before I consider it balanced. There are a lot of successful buyers and sellers out there today and there is a ton of potential for great investments in this market, but there are a lot of sellers struggling to sell their homes if they have a condo or townhouse style property or a property valued over 500K.
Contact Me
If you have any questions about the current market or would like to discuss buying or selling, fill out my online contact form or give me a call at 306-552-7047!