We are so excited to be hosting another First Time Home Buyers Seminar in Regina! This will be the 10th seminar we have hosted! To date we've had over 300 people in attendance. That's an additional 300 people who at some point will buy their own home armed with TONS of extra information they wouldn't have had if they hadn't attended the seminar. Myself and Sam, my partner on these seminars, value our opportunity to educate future home buyers around the process. We recognize that the only way to create change and help people set them selves up for success is to educate them, so here we are continuing to put on these seminars for future home buyers.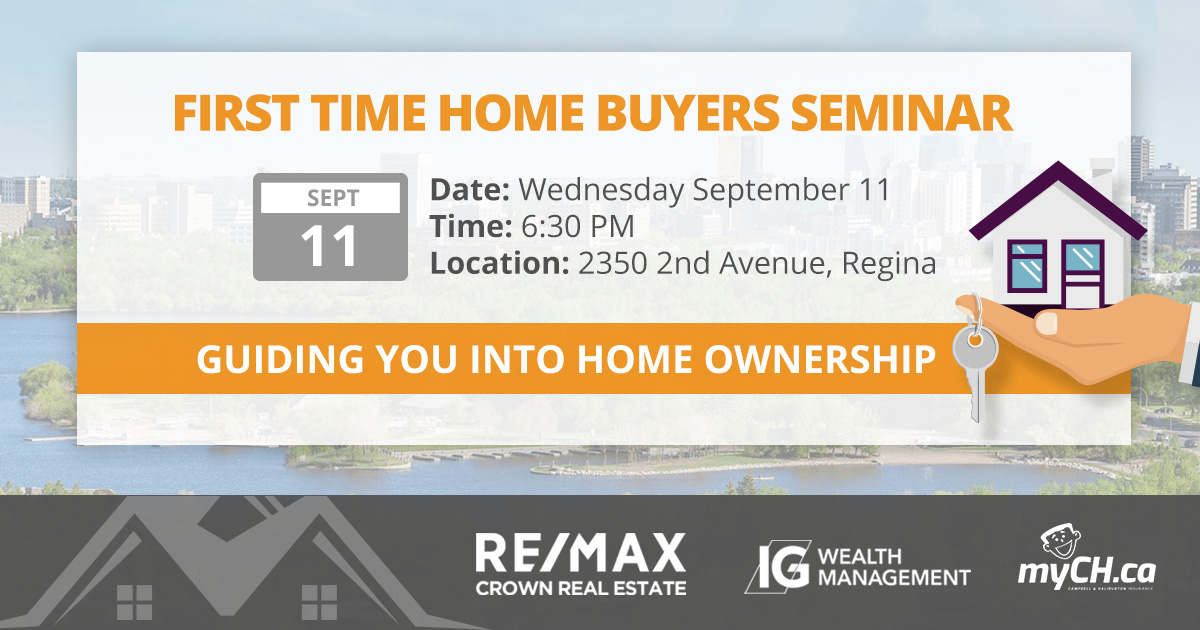 Our seminars run like a well-oiled machine, we are efficient and have perfected our presentations. They are fast paced, informative and enjoyable to attend! We hope to see you in attendance!
---
Date: Wednesday September 11th
Location: 2350 2nd Avenue, Regina (Remax Crown Real Estate office)
Time: Presentation will start promptly at 6:30 PM.
Details
---
First, Financing & Qualification: How do you qualify for a mortgage? How much do you need for a down payment? Credit? RRSP's? All of the financial jargon you kinda sorta know about… but we will tell you how these things apply to buying a home and what you need to do with them. Sam Lichtman, a Certified Financial Planner with Investors Group, will explain how important affordability is and how a strong financial plan can save you thousands. He will explain how to use The RRSP First Time Buyers Plan and other cost savings methods.
Second, House Hunting: Regina soil conditions, the home inspection, writing an offer and everything else. Kelsey Smith, Regina real estate agent with Remax Crown Real Estate will tell you what kind of defects to watch out for when viewing houses. Kelsey will explain how important it is to do a market analysis before writing an offer so that you don't overpay and she will explain how to take advantage of this buyers market!
Last, Home Insurance: Dave Arnold with Campbell & Halliburton will present the world of insurance to you in a way that is interesting and entertaining! With a million different kinds of insurances, Dave will bring you insight on what you need to know most and how to apply it to your individual situation. Kids are welcome, beverages will be served. Tons of parking available.
How to Register: you can fill out the online contact form or call or text 306-552-7047 with your name and the number of people attending in your group.
Contact Me
If you have any questions about the current market or would like to discuss buying or selling, fill out my online contact form or give me a call at 306-552-7047!